An exceptional guided journey by electric bike and on foot in South Africa's Western Cape, from the wild and remote Klein Karoo to the majestic, verdant Indian Ocean coastline. This is a journey of epic contrasts, and one to take time over.
Duration

7 nights

Type

Electric Biking

Price

£3,945 per person

Group size

Maximum 10

Good To Know

There are several opportunities to swim on this journey, in pools at some of the properties we stay at, and of course in the Indian Ocean.
"Prepare yourself for a treat – in the quality of the guides, the food, the wine, the places you stay and the history and antiquated rural landscapes of Transylvania. I would go back in a heartbeat."

Pamela Goodman, House & Garden

"The most perfect trip. I don't know how you've managed to find all the incredible behind-closed-doors secrets that you have, but there were just neverending delights. Wonderful."

Eliza B

"One of the best holidays we have ever had. Pure magic from beginning to end. We have been riding on a high since returning home and telling everyone."

Nigel S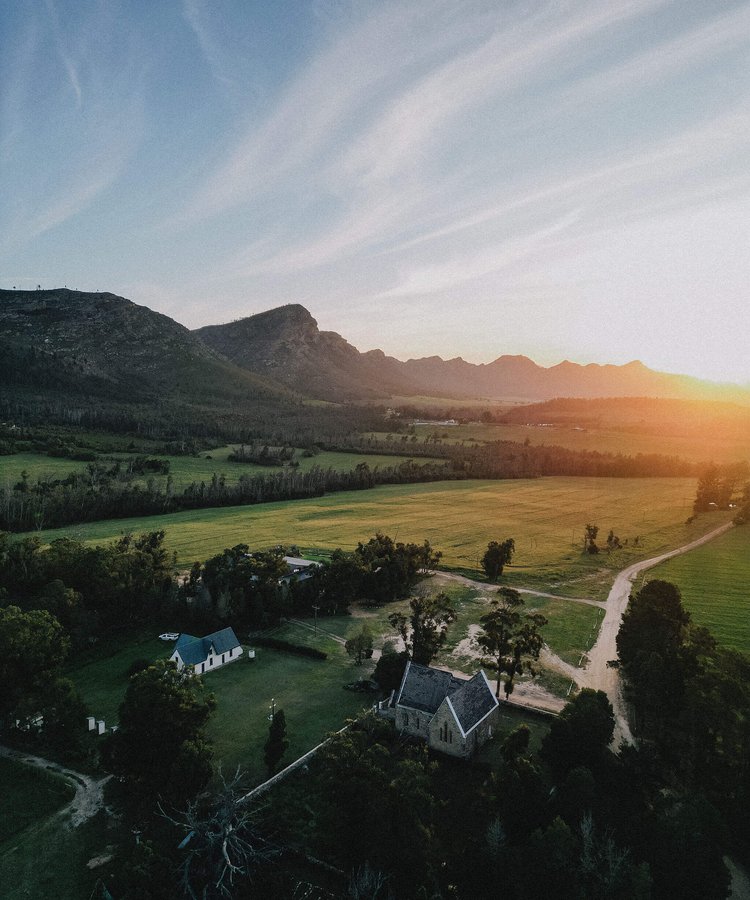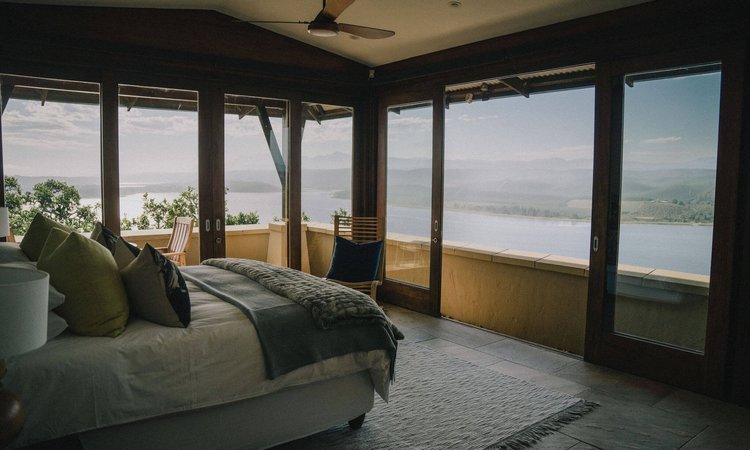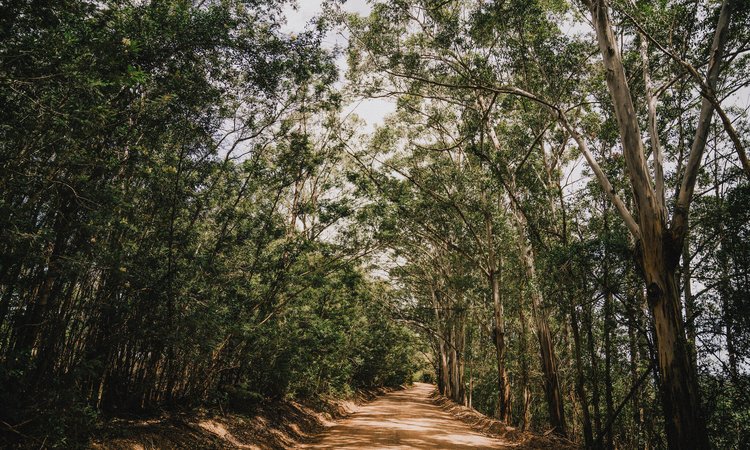 Welcome to The Slow Cyclist
I first met Jaco and Katja, our wonderful guides on this journey from the Karoo to the Indian Ocean, in Rwanda in 2018. I had asked them to travel up from their native South Africa to accompany me on a journey across Rwanda's sprawling hills with a group of Slow Cyclists. They had heard great things about the country and we felt that, armed with a collective energy and eye for detail, they could help us and our local team keep improving our Rwandan adventures. They have done so to great effect over the past five years, even popping over to Europe occasionally to host our guests in Greece or design new Slow Cyclist journeys in Spain. But it is in South Africa where their hearts lie and I am delighted that they will now be welcoming our guests to a region they love, and call home. If you choose to travel with us, and with them, I hope you have a fantastic time.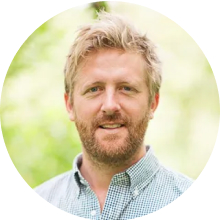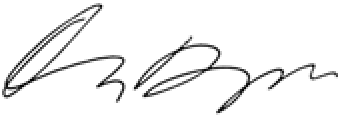 Oli Broom
Founder, The Slow Cyclist
The Journey
The rugged mountains and rolling hills and valleys of the Klein Karoo provide a hugely atmospheric start to our journey from Prince Albert to the wild and sun-drenched Indian Ocean. This is big sky country, inhabited by hunter gatherers hundreds of thousands of years ago and their marks are in the tracks that criss-cross this ancient land. Pedalling south we say goodbye to ostriches and springboks and enter the majestic Outeniqua Mountain Range, home to giant yellowwoods and fern-lined streams that form a barrier between the semi-arid interior and the vibrant, lush indigenous forests bordering the coast, where our journey ends.
Is It For Me?
Our journeys are built around exceptional hospitality, kindness, friendship and surprises around every bend in the road. Slow Cyclists are curious travellers with a bit of juice in their legs. We approach our time on a bike as an opportunity to explore rather than test our fitness. That's not to say we don't pedal hard sometimes, just that we are often distracted by the food, history and people that make a place special. When we see something interesting, we tend to stop and take it in rather than race by. If this sounds like you, we're pretty sure you'll love your time exploring with us.
When to Go?
The semi-arid climate of the Klein Karoo is characterised by hot summers between November and March (25 to 35°C) and cool winters from May to September (15 to 20°C). Both seasons have their charms. We avoid the hottest months of the year in December and January, which is also when most rainfall is most likely. Many of the region's 800 or so species of bulbous plants, including fynbos such as the Protea and Erica, flower in the summer, although their blossoms dry out and give the illusion of flowering throughout the year.
The Cycling & Walking
Cycling distances vary between 20 and 60 kms per day and we use hardtail (front suspension) electric bikes because of the mix of terrain. The cycling consists mainly of very quiet tarmac backroads, with occasional gravel roads. The journey is suitable for almost all levels of cyclist and whether you are a novice or experienced cyclist, our guides are skilled at spotting your ability and level of confidence and reacting accordingly. Walks will be no more than 3 hours and will not be technical. However, you should be comfortable walking on uneven ground up and downhill. There will always be someone travelling at your pace; this is a journey to take time over.
Flora & Fauna
The Karoo is especially known for its diverse succulent vegetation. Fynbos, unique to the Western Cape, is the collective term for "fine bush" characterised by its small, hard leaves and wiry stems. These plants were particularly important for the Khoisan hunter gatherers. They are mostly edible and still used in local cuisine today. The animals that populate the region are just as varied. We will see springbok, kudu and eland and will no doubt encounter wild baboons and a huge range of birdlife, from sunbirds to hoopoes, narina trogons to Knysna turacos. If we are lucky we may spot meerkats, aardvarks and, as we enter the forests closer to the coast, bushbucks, bushpigs and mongeese. Leopards are a rare sighting, but they do live here.
Food & Drink
Our culinary journey will match our route from mountain to coast. Eating and drinking locally sourced produce throughout, we'll enjoy classic & contemporary South African cuisine, from Karoo lamb and wagyu beef to potjiekos (small pots of stew bursting with flavour), Cape Malay inspired spiced mince meat bake, boerewors, chakalaka and pap (beans, onions and peppers with cornmeal). Picnic lunches will include local meats and cheeses and of course we'll have a mouth watering spit braai. As we reach the coast a private chef will source the daily catch. Of course, all of this will be accompanied by fantastic local wines and the best craft beers.
Itinerary
We take a less-is-more approach to the itineraries we provide. We do this because we think travel is at its best when plans remain flexible and when, as travellers, our guests don't always know what's coming next. So, please treat this itinerary as a guide to how your time with us is likely to unfold. You will have experiences, meet people and see places that we have not listed here. There may also be occasions when, for good reason, we cannot fulfill every detail here. Finally, please treat distances as estimates because the routes we take may vary slightly.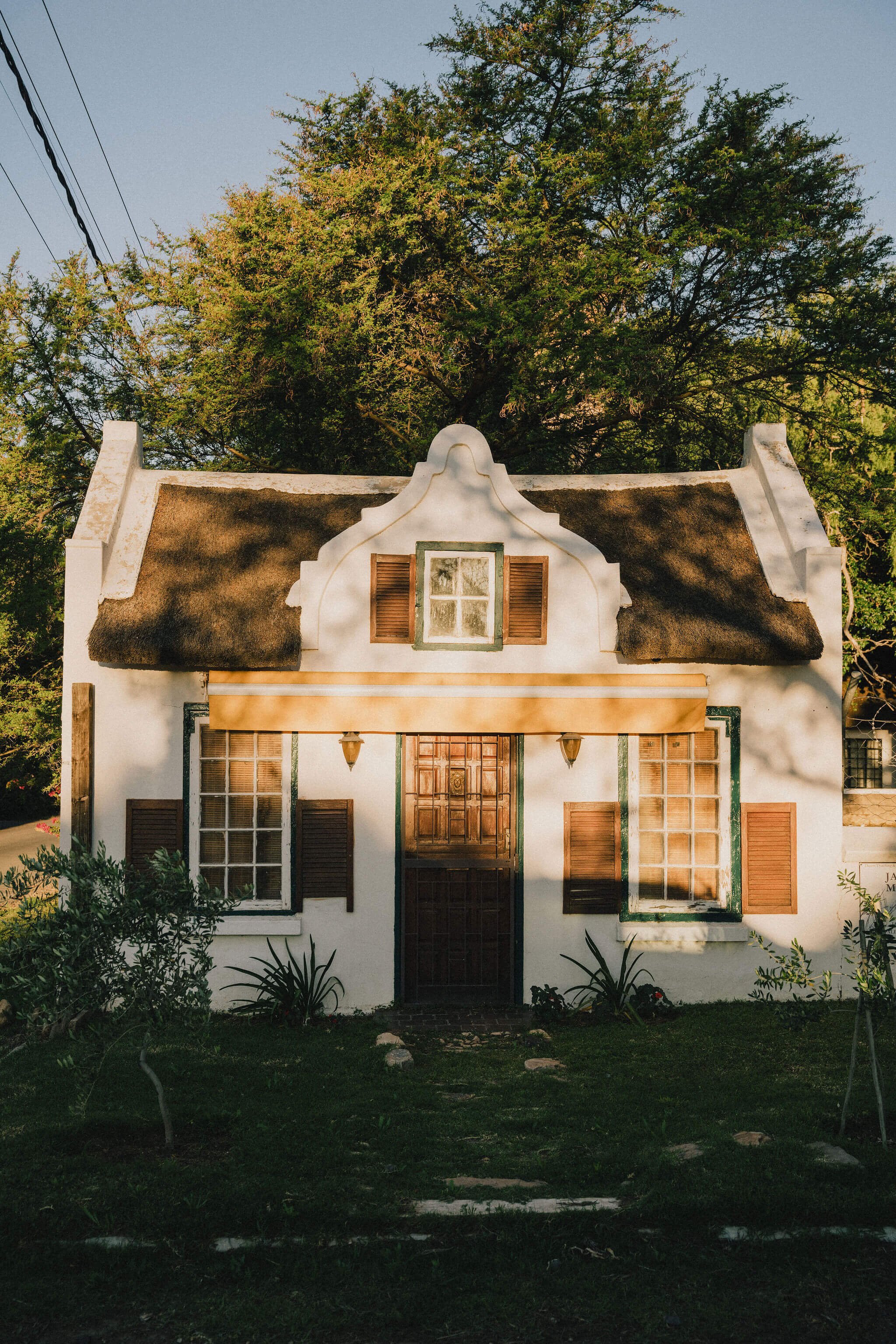 Day 1 - Arrival in George
Transfer, George Airport to Prince Albert 185 kms (2 hrs 50 mins)
Arriving in George, we will head into the Outeniqua Mountain Range which forms the divide between the lush coastal belt and the semi-arid Klein Karoo. We will cross the seemingly impenetrable mountains via the old Montagu Pass, built in 1943 by Colonel Montagu. The landscape changes drastically as we drive north to Oudtshoorn, the ostrich capital of the world and home to beautiful architecture that betrays its cultural influences. Finally we reach the oasis of Prince Albert, where we begin our journey on two wheels tomorrow. Enjoying local cuisine, stories of Boer wars and British occupancy, we will experience the first star filled sky of the week, from the comfort of one of the oldest local homesteads.
Day 2 - Prince Albert to Oudtshoorn
Morning cycle 30 kms - Afternoon cycle 16 kms
We will need a hearty breakfast before climbing the 150 year-old Swartberg Pass, the crowning achievement of prolific road engineer Sir Thomas Bain. The views over the Klein and Great Karoo are well worth the effort. We slowly snake our way down the pass and into a land of sheep farms that is also home to a huge variety of bird life, unique vegetation and even the odd buck. Tonight's accommodation is in Oudtshoorn, under the milky way.
Day 3 - Oudtshoorn to Kammanassie
Morning cycle 21 kms - Aternoon cycle 17 kms
Leaving our accommodation we will cycle south, descending gradually along a picturesque river valley with fields of tobacco, lucerne and deciduous fruit. We will visit resident crafts' people before lunch in the bush, Slow Cyclist style. Our slightly shorter afternoon cycle takes us through the striking red hills that give the Klein Karoo its unique character and sees us end the day in the saddle in plenty of time for a late afternoon swim. Our overnight stay is beautifully situated and a place to slow down, absorb its tranquillity and take in the setting sun.
Day 4 - Kammanassie to Herold
Morning cycle 28 kms - Afternoon cycle 34 kms
Today is a longer cycle that sees us meander through rolling hills as we make our way closer to the coast. Crossing dry river beds and seeking shade under Acacia trees, we will have plenty of time to take in the stillness of our surroundings, and the occasional baboon. Our lunch stop is the shady veranda of a delightful old school house, providing us with a perfect oasis to escape the midday heat. Back on the bike, we'll roll on down into a tranquil, working farm. We'll be staying in a beautiful homestead with wooden floors, sash windows and high ceilings, typical of the region's Cape Dutch architecture.
Day 5 - Herold to De Vlugt
Morning cycle 27 kms - Afternoon cycle 15 kms
Delving deeper into the history of this land, we will take a morning walk in search of the Koi Koi rock paintings, some 2,000 years old. Then it's back on the bike to cover the last stretch of semi-arid desert before we enter the verdant Outeniqua Mountain Range. There are endless delights here, and challenges for those living within the range's folds. We will meet local people living off-grid and hear their stories. Our overnight accommodation is nestled deep in a valley with abundant fresh mountain pools and pecan trees.
Day 6 - De Vlugt to Knysna
Morning cycle 33 kms - Afternoon cycle 28 kms
We continue this morning along a mountain pass, with views over the Knysna rainforest canopy. By mid-morning we'll benefit from the shade of the forest as we follow a secret path down to the coast, rooted in time, where elephants roamed, forest trains toiled and where the echoes of a woodcutter's axe can still be heard. We will have lunch in an 18th century property before descending into the deep, pristine and indigenous forest. The final descent takes us to our accommodation outside of bustling Knysna. Set on a 4 hectare farm, the private house is perched on a high outcrop surrounded by a nature reserve with breathtaking views of the Knysna River. 
Day 7 - Knysna to Sedgefield
Morning cycle 44 kms - Afternoon cycle 9 kms
Despite our proximity to the Garden Route, we will not feel like we're anywhere near modernity. We take a short walk to the Red Bridge that takes us over the Knysna River. We begin the journey along the famous 7 Passes Road, the oldest direct road link between George and Knysna. Completed in the late 1800's and still mostly untarred, it dips down into the many river crossings, giving us a magnificent feeling for what the settlers of that era experienced by horse cart and wagons. With incredible views of the Indian Ocean, we hug the foot of the Outeniqua Mountain Range, just on the other side of where we were on Day 5. For lunch we visit a project for children of the area. We will chat with the founders and experience a traditional lunch. The afternoon cycle is 10 km downhill as we make our way down to the coast. We celebrate the completion of our journey with the most spectacular view of the South African coastal region. Depending on time, weather and mood, we visit one of the wildest and most beautiful beaches along the east coast.
Day 8 - Departure
Morning walk 5km
It is easy to find wilderness even on the Garden Route. This morning we will invite you to join us for an hour-long walk on one of the wildest beaches on the east coast of South Africa. The sand is fine and white; the sea turquoise and warm. 
Practical Information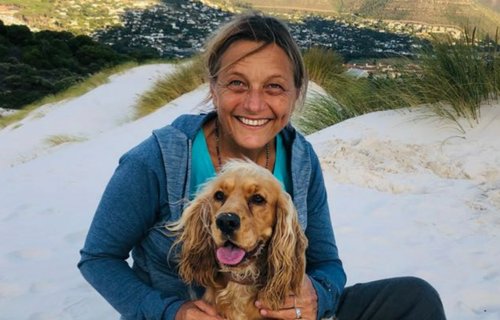 Guiding & Support
Our attention to detail sets us apart. You will be accompanied by a member of The Slow Cyclist team from South Africa who will act as your host. In addition, you will be guided throughout by Capetonians Jaco and Katja (pictured here with her pooch, Pippa). We introduced both to Rwanda in 2018 and they have since hosted many Slow Cyclists there alongside our Rwandan guides. We are delighted they have agreed to guide for us in their homeland. Both are charming, knowledgeable and passionate about all that South Africa has to offer. We are sure you will become firm friends by the time you leave. Finally, your bags will be driven ahead each day and a support vehicle will be on hand (although never too close) in case you need a lift.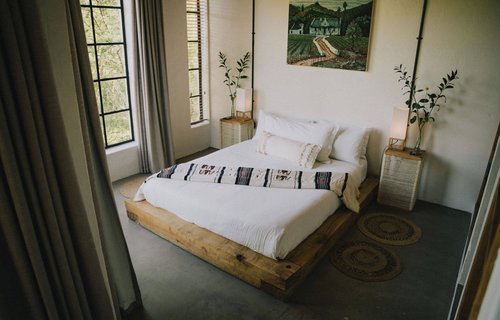 Accommodation
We avoid big, soulless hotels. Instead, on this journey we will stay in a series of locally owned properties: a charming small hotel, a farm homestead, a luxury cabin, a simple mountain lodge, a luxury private home and a villa. Some will be exclusively ours, but in others there may be other guests. Lodging is based on twin or double sharing although a single supplement is available. In one or two of the properties rooms may not be en-suite. Wi-Fi or a good 4G or 5G connection is available each night. If a property is listed in this itinerary it is as a guide; where required any substitutes will be of similar quality.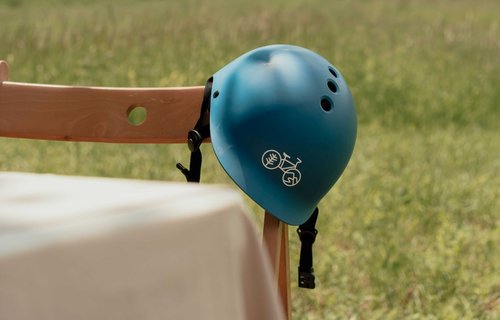 Bikes & Safety
We take your safety seriously. You must wear a helmet when cycling and we cannot accept bookings from anyone unwilling to wear one. The bikes you'll be riding with us are electric bikes. You will be given a brief lesson in how to use them effectively before we start cycling. If you have any technical issues during your time with us, from squeaky brakes to punctures, please let us know and we'll fix it. And finally, please don't worry if you feel you are too slow or too fast for others in the group. We have a guide at the front and one at the back precisely for that reason. Please remember, we're not here to race; this is a journey to take time over.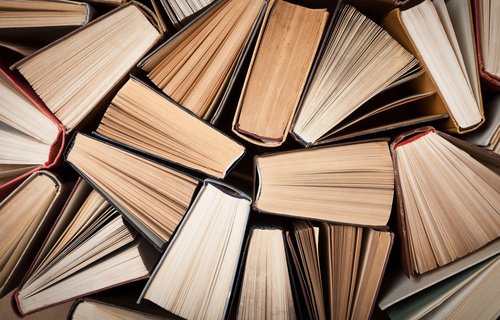 Packing & Reading
Well in advance of your travels we will send you an online Information Pack including various details you need to know in advance. This will include a suggested packing list. You may also wish to get reading about South Africa so we will also send you a reading list in the same pack.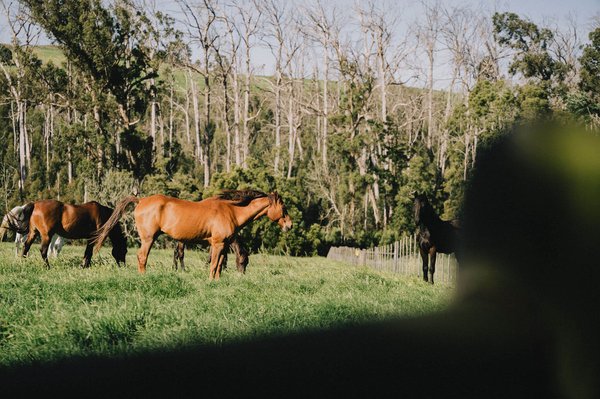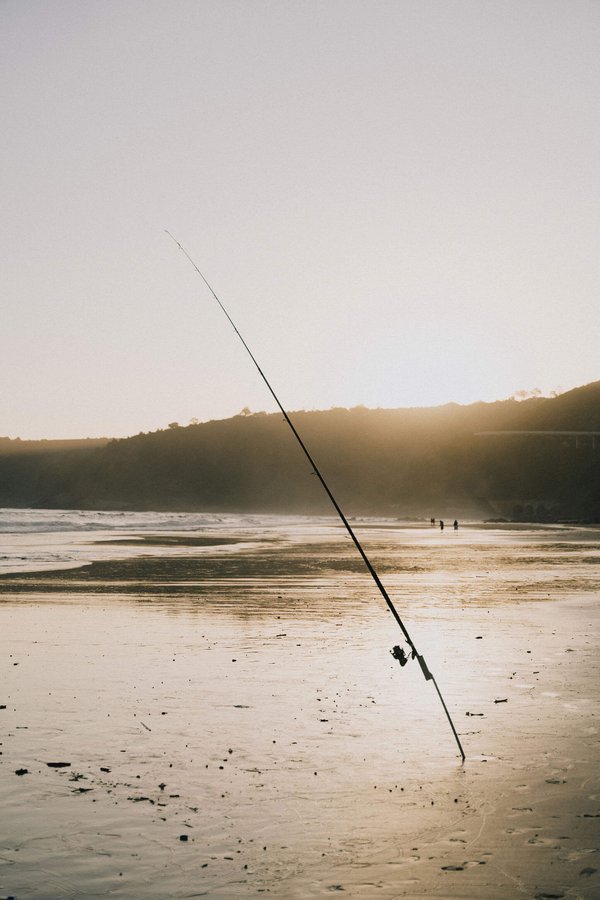 We partner with Trust My Travel so that, in accordance with travel industry regulations, your funds are 100% protected.
Pricing & Booking
Price
£3,945 per person
Extras

Single occupancy supplement
£450
Group airport transfers (1 x arrival, 1 x departure)
Support vehicle and luggage transfers
TSC host & 2 x English-speaking local guides
All accommodation, meals, snacks, wine & beer
All activities
Electric bike and helmet
100% financial security
Donation to a cause that is aligned with our values
Flights
Spirits
Personal costs
Travel insurance
Visa (if required)
We require a 30% deposit on the core trip price (i.e. not on any extras) at the time of booking. The balance is due 8 weeks before the departure date. The price listed in this brochure is valid until 30 November 2023, after which date we may review. Please make sure you are familiar with our Standard Terms & Conditions before booking.
You will receive two emails: a payment receipt and a second email explaining next steps. Within two working days you will be contacted by a member of our Guest Services team who will look after and advise you in the lead up to your travels.
Book Now

All of our experiences are covered by Trust My Travel who protect our travellers their payments
Flights
You are responsible for booking your own flights to South Africa. They are not included in the cost of the trip. Once you arrive, you will need to make your way to George, on the coast about 450 kms east of Cape Town. Of course you may drive, but the easiest way to get there is via Airlink, who operate daily flights between the two. They do the same between Johannesburg & George. If you need help booking flights we recommend using Liz Rees, who can be contacted here.
Transfers
We will provide one transfer for the group from George to Prince Albert on arrival and another back to George at the end of the journey. If you need to look at alternative transport options because you are arriving or leaving earlier or later, we recommend contacting Liz Rees, who has helped many Slow Cyclists with their supplementary travel arrangements over the years.
The Great Karoo was, approximately 250 million years ago, a vast inland sea. As the world's climate gradually changed from cold to hot the water evaporated leaving a swamp where reptiles and amphibians prospered. More recently, less than two hundred years ago, large herds of antelope and zebra roamed the grass plains. The Hottentots and Bushmen, the last Stone Age people, shared the "Place of Great Dryness", differing mainly in the way they used the land. The Hottentots, indigenous nomadic people, herded their sheep and cattle in the age-old pastoral pattern; the Bushmen followed their traditional nomadic pursuits of hunting and feasting. With the occupation of the region by stock farmers, sheep gradually replaced game and the grass receded. During the Second Boer War of 1899-1902, three Republican commando units, reinforced by rebels from the Cape Colony, conducted widespread operations throughout the Karoo. Countless skirmishes took place. Fought both conventionally and as a guerilla struggle over the Karoo's vast expanses, it was a bloody war of attrition during which both sides used developing technologies to try to gain an advantage. Numerous abandoned blockhouses can still be seen at strategic locations in the Great Karoo. These days sheep farming is the economic backbone of the Karoo with other forms of agriculture taking place in areas where irrigation is possible.
Slow travel is about savouring the journey, the people, the sights, smells and sounds along the way. It encourages deeper connections, friendship and lifelong memories. It is local, thoughtful and sensitive to its impact. It is an antidote to mindless mass tourism. A bicycle journey – indeed, a journey with The Slow Cyclist – is a wonderful way to travel slowly. With an open mind, an open heart and a little juice in the legs, it can provide the ultimate slow exploration of new lands, their food, history, landscapes and people. But although it's our focus, we don't just want to run great trips. In fact, we spend much of our time thinking about how we can run great trips, while benefiting people and planet. Our values guide us to this end.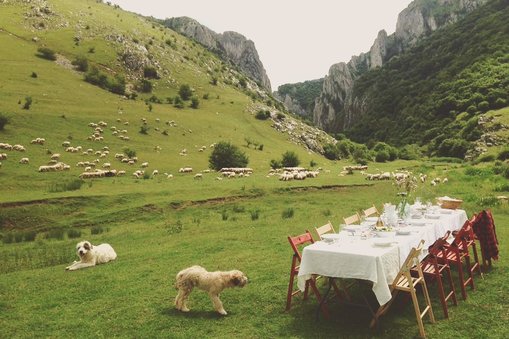 Exceptional Quality
Our passion for creating exceptional shared experiences in places we love is reflected in the journeys we design. We don't rest on our laurels, seeking continued improvement and innovation so that you, our guests, are enriched around every bend in the road.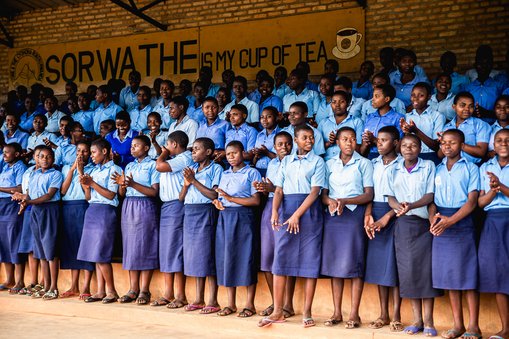 Community Driven
The Slow Cyclist was born as an antidote to mass tourism. All stakeholders, from our guests and team in the UK to our local guides, from food producers we work with to the communities whose lives we touch, must feel our influence and impact is positive.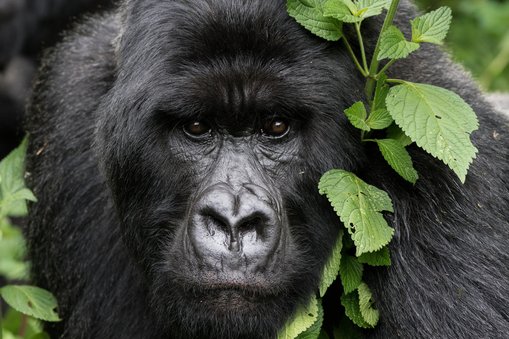 Future Focused
We travel with a light footprint but that's not enough. We can always do more. We are part of a generation that must act responsibly in business and in tourism; one that begins to restore our planet's biodiversity and delicate ecosystems.