An exploration by electric bike and on foot through the rural patchwork landscapes of Poland's Lower Silesia, bordering south east Germany and northern Czechia. Discover lush forests, gently rolling hills, extinct volcanoes, beautiful castles and life in the slow lane in this charming corner of the country.
Duration

4 nights

Type

Electric biking and walking

Price

£2,390 per person

Group size

Maximum 12

Good To Know

This journey involves a couple of two night stays at our chosen guest houses. For the last two nights we stay at two guesthouses in the village of Tarczyn, which are around 300m apart.
"Simply the best holiday we have ever had. Amazing scenery and cultural interactions. The guiding team were excellent and we had some beautiful spots for lunch with glorious food. I cannot recommend highly enough."

Max P

"One of the best holidays we have ever had. Pure magic from beginning to end. We have been riding on a high since returning home and telling everyone."

Nigel S

Our third time with The Slow Cyclist and it was a superlative trip. The scenery, and places to stay were perfect. But the outstanding thing to me was the approach of your team. They anticipated our every need.

Edward G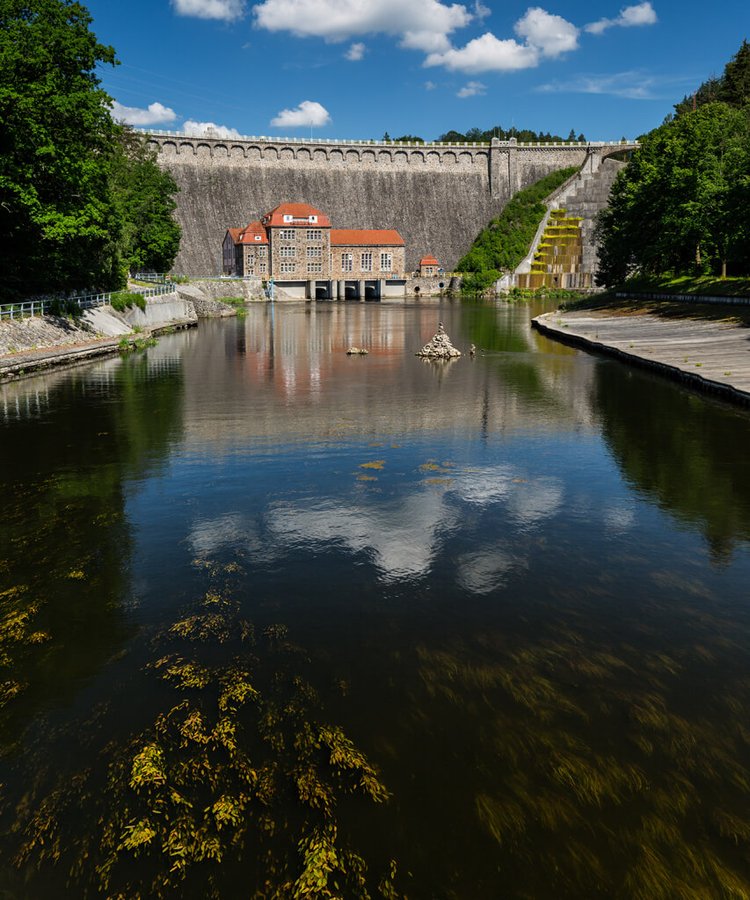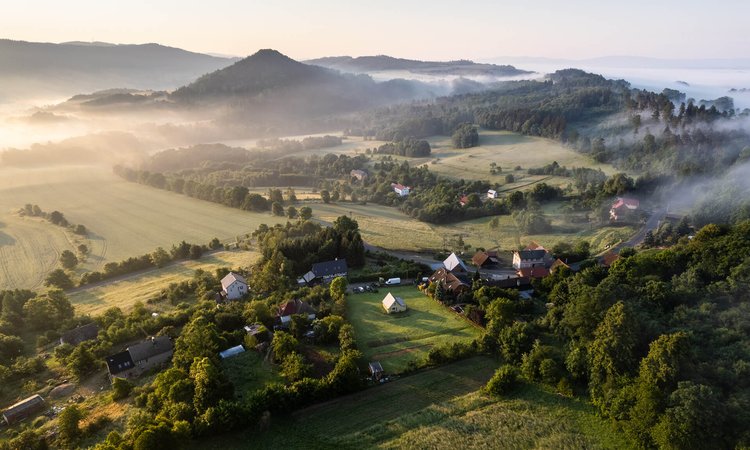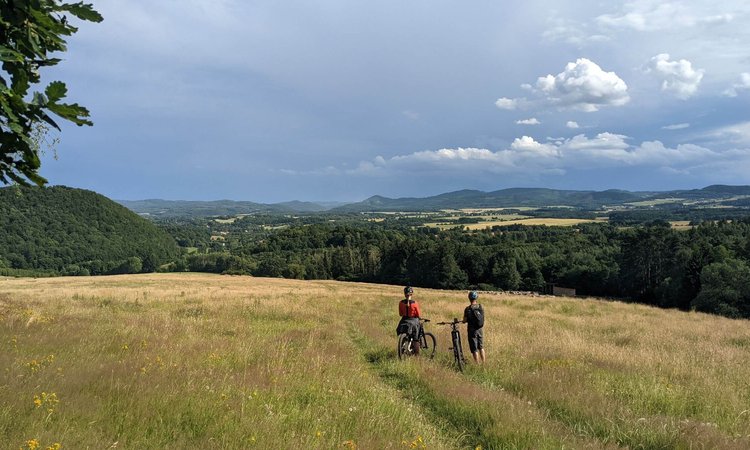 Welcome to The Slow Cyclist
Lower Silesia is somewhere to slow down. The landscapes are captivating, the food is hearty and delicious and the people are incredibly warm and welcoming, with plenty of stories to tell. Far away from busy cities and mass tourism, it is a corner of Poland in which it feels that time stands still. Our journey takes you through forests and meadows and offers spectacular views of mountains and extinct volcanoes. The bucolic landscape is dotted with an eclectic mix of architectural styles, from Gothic to Neoclassical, which show off the area's rich, and often turbulent, history. You may pedal hard during the day (with as much or as little help from the electric bike as you wish) but there is plenty of time to relax and indulge. You'll eat traditional meals with a modern twist, and stay in beautifully restored guesthouses. And did you know that Polish wine is rapidly becoming the next big thing? Try a glass at a local family-run winery and you'll understand why. I hope you enjoy exploring this lovely part of the world.

Best wishes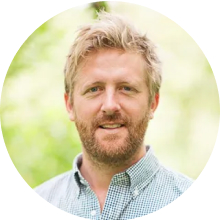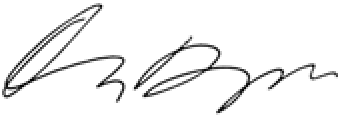 Oli Broom
Founder, The Slow Cyclist
The Journey
Lower Silesia, known locally as Dolny Śląsk, is situated in the south west of Poland. Led by our passionate and thoughtful team of two local guides and a host, we will travel through a region that marries bucolic rolling hills, rich history and splendid architecture. We'll stay in two lovingly restored rural guest houses, eat at some of the best private tables in the region, enjoy table picnics, and cycle and walk along quiet back roads, forest tracks, trails and meadows.
Is It For Me?
Slow Cyclists are curious travellers with a bit of juice in their legs, approaching their time with us as an opportunity to explore rather than a test of fitness. That's not to say we don't pedal hard sometimes, just that we are often distracted by the food, history and people that make this place so special. When we see something interesting, we tend to stop and take it in rather than race by. If this sounds like your sort of holiday, we're pretty sure you'll love your time with us.
When to Go?
We host Slow Cyclists in Lower Silesia in May, June and September to enjoy the warm Central European climate while avoiding the busier summer months. Temperatures are generally in the 20s and rain is relatively rare, although not unheard of. In May and June, the area is alive with spring flowers, whilst in September the fields are ripe with colour, ready for harvest, and the locals get brewing traditional mead and nalewka (see Food & Drink).
The Cycling & Walking
We provide full suspension e-bikes as standard. Cycling distances are between 20 and 45 kms per day on very quiet tarmac backroads, gravel roads and meadows. Take a look at the itinerary for daily cycling distances. It is important that you have good general fitness and are comfortable riding a bicycle on dirt roads and paths, up and down gentle hills. Whether you are a novice or experienced cyclist, our guides are skilled at spotting your ability and level of confidence and reacting accordingly. Walks will be no more than two hours and will not be technical. However, you should be comfortable walking on uneven ground up and downhill. There will always be someone travelling at your pace; this is a journey to take time over.
Food & Drink
Of course, every journey is also an exploration of a region's food culture. Polish cuisine has Slavic, Jewish and German influences, offering a taste of its rich history. Potatoes and cabbage feature prominently, while soups like barszcz (beet soup) and żurek (sour rye soup) are popular. Fish dishes from Poland's numerous lakes and rivers are also common. During your time with us you will eat traditional dishes, but often with a modern twist. Sometimes you'll eat out in the open, and at other times in traditional kitchens and small guest houses. Both German and Polish wine will be served, along with nalewka, a fruit liquor that is impossible to find in the shops, but easily found if you know the right people!
Extend in Wrocław
Beautifully preserved Wrocław is perfect for a weekend escape. Made up of 12 islands connected by 130 bridges, the city has plenty to explore. See if you can spot some of the 600 tiny dwarf statues dotted around the cobbled streets or sample craft beers at its world-class breweries. The market square, surrounded by tenement houses, is particularly impressive having undergone a major renovation in 1997; many would say it's the most beautiful in Poland and we're inclined to agree. Our team can add a day or two to your journey so you can explore this vibrant city.
Itinerary
We take a less-is-more approach to the itineraries we provide. We do this because we think travel is at its best when plans remain flexible and when, as travellers, our guests don't always know what's coming next. So, please treat this itinerary as a guide to how your time with us is likely to unfold. You will have experiences, meet people and see places that we have not listed here. There may also be occasions when, for good reason, we cannot fulfill every detail here. Finally, please treat distances as estimates because the routes we take may vary slightly.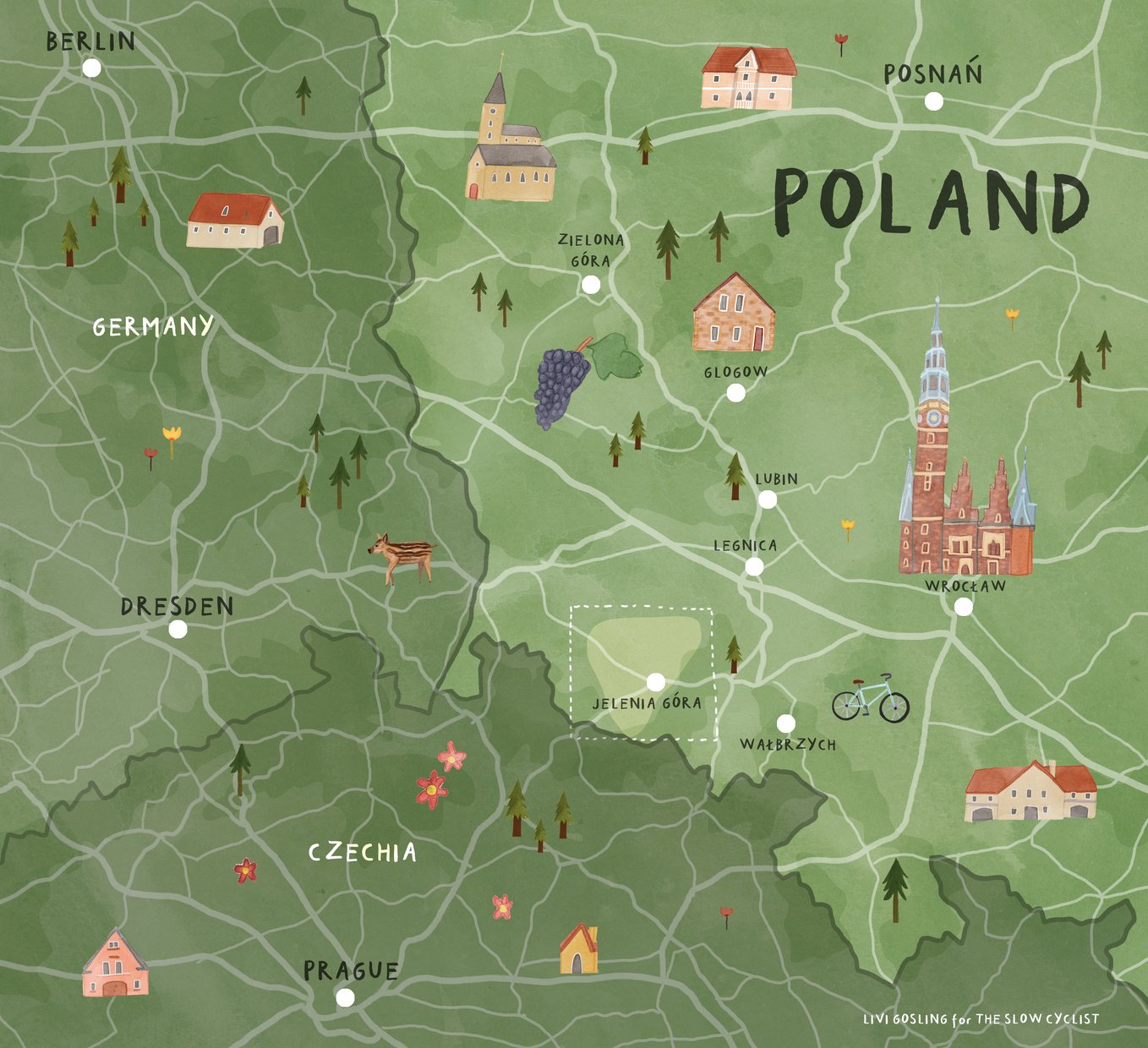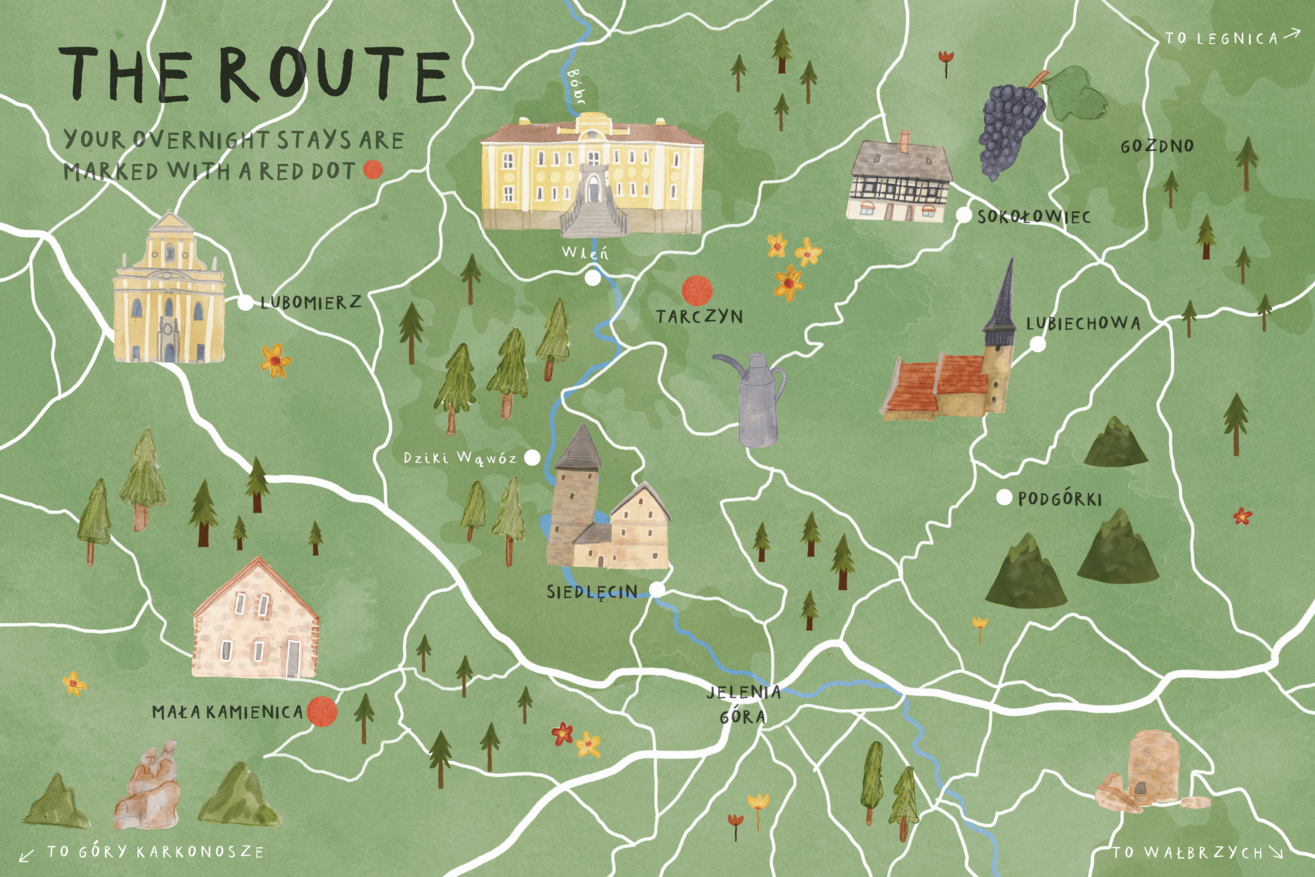 Day 1 - Arrival
Transfer & Afternoon Walk / Cycle
We will pick you up from Wrocław Airport and drive you to a beautifully renovated farm house in Mała Kamienica, a village nestled in the foothills of the Jizera Mountains. This is our home for the next two nights. There will be time to relax in the orchard or take a gentle afternoon walk or cycle before a delicious home cooked dinner, full of healthy local produce, prepared by the wonderful Kamila or Maryla. This may be the first opportunity to sample the homemade fruit liquor nalewka.
Day 2 - Lubomierz and Wleń
Morning cycle 26kms - Afternoon cycle 24 kms
This morning, we will cycle along quiet roads and tracks through rural villages and their surrounding meadows. We'll first pass through Lubomierz and visit its imposing Baroque church and monastery which was home to Benedictine nuns for centuries. Gorgeous landscapes and views unfold along our ride, and in spring the fields and verges are ablaze with flowers. After a table picnic lunch prepared by some local ladies, we'll visit the ruins of the 12th century Lenno Castle and climb its tower to enjoy panoramic views of the Jizera, Kaczawskie and Karkonosze Mountains. On our way back to Mala Kamienica, we will meander off road passing the picturesque Pilchowice Dam. This evening, we'll have another delicious supper, accompanied by local music and honey mead, or a talk from a local historian.
Day 3 - Mała Kamienica to Tarczyn
Morning cycle 24kms - Afternoon walk 8kms
We will begin today by cycling on quiet, well maintained rural roads towards the Dolina Bobru protected area, incorporating the lovely Bobr river valley. We will pedal off road along the river towards Siedlęcin, where we find the imposing 14th century Prince's Tower, with its celebrated Gothic frescoes depicting the legend of Lancelot. After a leisurely lunch, prepared by a traditional local 'housewives club', we will cast our bikes aside and walk for a couple of hours. We'll cross rolling hills to the tiny hamlet of Tarczyn, our serene home for the next two nights. Tonight we dine al fresco in Urian's beautiful garden, with fresh organic ingredients prepared by a local chef.
Day 4 - Tarczyn to Lubiechowa
Morning cycle 21kms - Afternoon cycle 18kms
After breakfast, we will ride into a region known as the Land of Extinct Volcanoes and learn about the fascinating history and geography of this undiscovered region. We'll pass through charming villages, where we will meet local food producers and take gravel tracks through the hills for panoramic views of the long-forgotten volcanoes and the Karkonosze Mountains behind them. We'll enjoy a picnic lunch and visit a small family-run vineyard that produces just a few thousand bottles a year. We'll then wind our way back to our guest house, passing several palaces and churches typical of the region. For our last evening, there will be more music, more regional wine and more delicious food in a setting that we always hate saying goodbye to!
Day 5 - Departure
Optional morning walk or cycle
There may be time in the morning to go for a short walk or cycle, or time to relax in the guesthouse garden. After saying our goodbyes, you'll be transferred back to the airport for an afternoon flight home or maybe a weekend extension in Wrocław.
Practical Information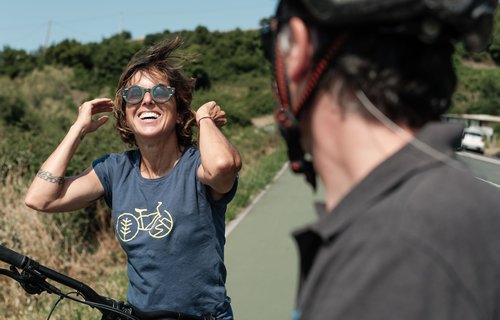 Guiding & Support
Our attention to detail sets us apart. You will be accompanied by a member of The Slow Cyclist team from the UK who will act as your host. In addition, you will be looked after by our two local guides throughout. Each is fluent in English and from the area you will be travelling through. We're sure you will become firm friends by the time you leave. Finally, your bags will be driven ahead each day and a support vehicle will be on hand - although never too close - in case you need a lift.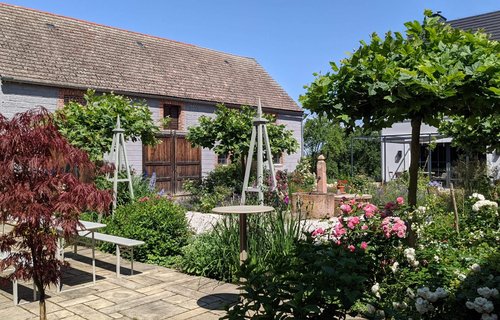 Accommodation
Everywhere we go we avoid big, soulless hotels, preferring intimate guest houses and homes that offer charm, comfort and a beautiful location. On this journey in Lower Silesia we will enjoy a couple of two night stays at our chosen guest houses. They are both beautifully restored rural buildings in peaceful villages. Each property will be exclusively ours if the group numbers 8 or more. In our second guesthouse, the rooms will be split over two buildings for larger groups. Both buildings are beautiful and charming, and just a few minutes' walk from each other. All rooms are en-suite. Lodging is based on twin or double sharing although a single supplement is available. We provide our own feather pillows, shampoos and soaps.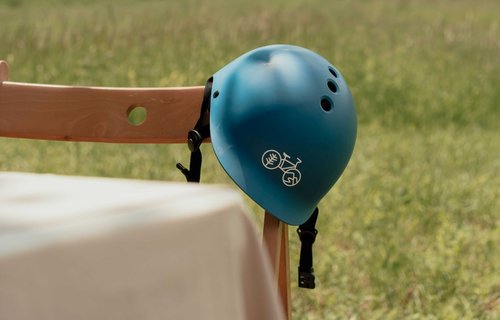 Bikes & Safety
We take your safety seriously. You must wear a helmet when cycling and we cannot accept bookings from anyone unwilling to wear one. The bikes you'll be riding with us in Lower Silesia are comfortable full suspension Cube electric mountain bikes. You will be given a brief lesson in how to use them effectively before we start cycling. If you have any technical issues during your time with us, from squeaky brakes to punctures, please let us know and we'll fix it. And finally, please don't worry if you feel you are too slow or too fast for others in the group. We have a guide at the front and one at the back precisely for that reason. Please remember, we're not here to race; this is a journey to take time over.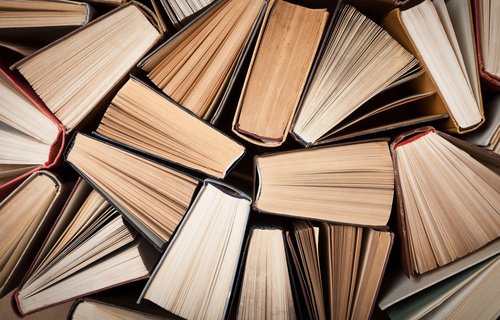 Packing & Reading
Well in advance of your travels we will send you an online Information Pack including various details you need to know in advance. This will include a suggested packing list as well as some of our favourite books about Lower Silesia and Poland.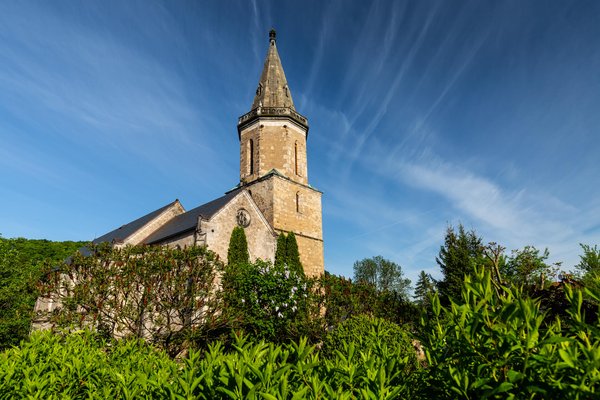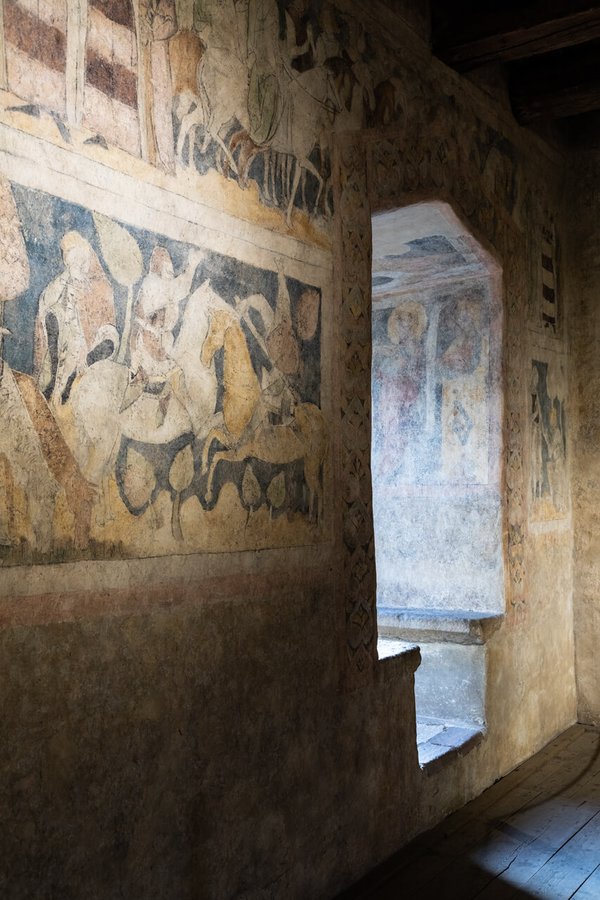 We partner with Trust My Travel so that, in accordance with travel industry regulations, your funds are 100% protected.
Pricing & Booking
Price
£2,390 per person
Extras

Single occupancy supplement
£250
We are often told how nice it is that almost everything is paid for up front. So, while you are with us you can forget about your wallet, relax and enjoy yourselves. Included are:
Group airport transfers (1 x arrival, 1 x departure)
Support vehicle and luggage transfers
TSC host and 2 x English-speaking local guides
4 nights accommodation
All meals, snacks and alcoholic and non-alcoholic drinks
All activities
E-bike and helmet hire
100% financial security
Donation to local causes aligned with our values
Flights
Personal costs (shopping, for example)
Tips (optional, of course)
Personal travel insurance
Visas (if required)
We require a 30% deposit on the core trip price (i.e. not on any extras) at the time of booking. The balance is due 8 weeks before the departure date. The price listed in this brochure is valid until 30 November 2023, after which date we may review our prices. Please make sure you are familiar with our Standard Terms & Conditions before booking.
You will receive two emails shortly after booking. First, a payment receipt, then a second email explaining next steps. Within two working days you will then be contacted by a member of our Guest Services team who will look after and advise you in the lead up to your travels.
Book Now

All of our experiences are covered by Trust My Travel who protect our travellers their payments
Flights
You are responsible for booking your own flights. They are not included in the cost of the trip. Generally there are two options for getting into Wrocław. The best is Wizz Air from London Luton but Ryanair also fly daily from London Stansted. Please speak to us before booking your flights as there are transfer considerations to take into account.
Transfers
We will provide one transfer for the group on arrival and another on departure. If you need to look at alternative transport options because you are arriving or leaving earlier or later, we recommend contacting Liz Rees, who helps many of our guests with their flights and supplementary transport requirements. Her details are liz.rees@travelcounsellors.com or +44 7816 936 876.
Protect the Planet
We are thrilled that increasing numbers of our guests are choosing to get to and back from their Slow Cyclist adventure in creative ways, often for environmental reasons. We understand that this may not be practical, but urge you to consider doing so if you can make it work. Catching the train to Wrocław from London St Pancras involves stops in Brussels, Koln and Berlin. Of course, you can undertake the research and book yourself, or Liz Rees (see 'Transfers') can book and organise your journey for you.
Lower Silesia, nestled in south west Poland, boasts a captivating history woven from the threads of Polish, German, and Czech influences. This vibrant region, once a prominent bastion of medieval Poland, has weathered centuries of shifting rulers and borders, leaving an indelible mark on its culture. Lower Silesia was a crown jewel in the Kingdom of Poland during the Middle Ages, characterized by flourishing trade and intellectual exchange. However, the tides of history ushered in a succession of foreign occupiers. Czech, Austrian, Prussian, and German rulers took turns shaping the region's destiny, imparting distinct legacies that endure to this day. A pivotal moment arrived in 1871 when Lower Silesia became part of the German Empire. The end of the 19th and beginning of the 20th Century witnessed the melding of architectural styles, resulting in a landscape rich in contrasts, from imposing Gothic cathedrals to graceful Neoclassical villas. Yet, the tumultuous mid-20th Century bore witness to radical change. In 1945, as World War II drew to a close, Germans were expelled from the region, opening the door for a wave of Polish resettlement. Since the cessation of hostilities, Lower Silesia has predominantly been a part of Poland, although a small area still sits within Germany. This enduring blend of cultures has transformed Lower Silesia into a treasure trove of history and architecture, where castles and palaces whisper tales of bygone eras, and charming old towns beckon travellers. In 2016, Wrocław, the region's hip capital, shared the spotlight with San Sebastian, Spain, as the European Capital of Culture. This distinction spotlighted Lower Silesia's unwavering commitment to preserving and promoting its heritage.
Slow travel is about savouring the journey, the people, the sights, smells and sounds along the way. It encourages deeper connections, friendship and lifelong memories. It is local, thoughtful and sensitive to its impact. It is an antidote to mindless mass tourism. A bicycle journey – indeed, a journey with The Slow Cyclist – is a wonderful way to travel slowly. With an open mind, an open heart and a little juice in the legs, it can provide the ultimate slow exploration of new lands, their food, history, landscapes and people. But although it's our focus, we don't just want to run great trips. In fact, we spend much of our time thinking about how we can run great trips, while benefiting people and planet. Our values guide us to this end.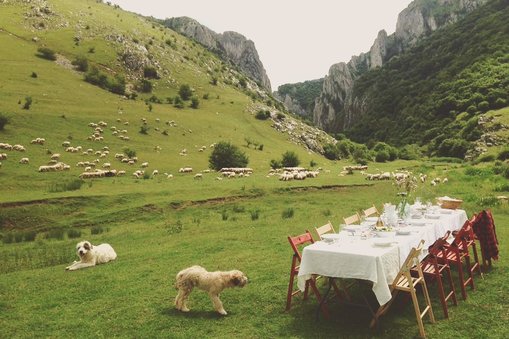 Exceptional Quality
Our passion for creating exceptional shared experiences in places we love is reflected in the journeys we design. We don't rest on our laurels, seeking continued improvement and innovation so that you, our guests, are enriched around every bend in the road.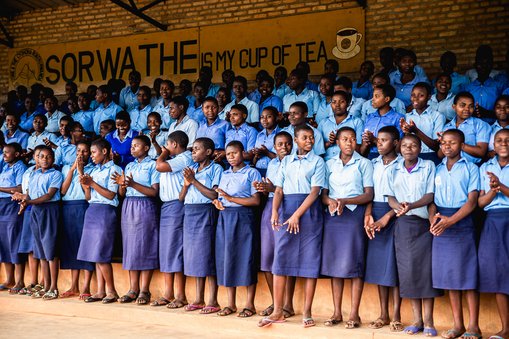 Community Driven
The Slow Cyclist was born as an antidote to mass tourism. All stakeholders, from our guests and team in the UK to our local guides, from food producers we work with to the communities whose lives we touch, must feel our influence and impact is positive.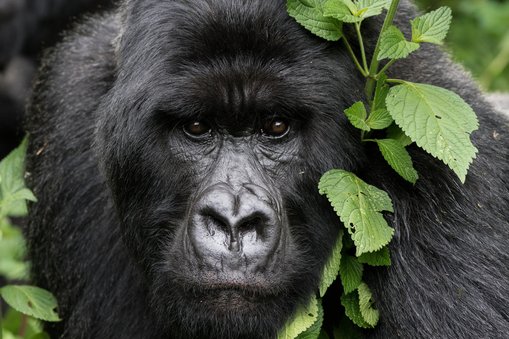 Future Focused
We travel with a light footprint but that's not enough. We can always do more. We are part of a generation that must act responsibly in business and in tourism; one that begins to restore our planet's biodiversity and delicate ecosystems.