An exceptional guided journey by electric bike and on foot in the wild heart of Italy, journeying through two of Italy's most majestic and remote national parks, Gran Sasso and Majella. This is a journey to take time over.
Duration

5 nights

Type

Electric biking & walking

Price

£3,395 per person

Group size

Maximum 8

Good To Know

For the last three nights we will stay in a particularly special house owned by the lovely Cristina. She is a wonderful host and we always find our stay provides an opportunity to relax, slow down and indulge in the verdant, remote majesty of the Majella.
"The most perfect trip. I don't know how you've managed to find all the incredible behind-closed-doors secrets that you have, but there were just neverending delights. Wonderful."

Eliza B

"One of the best holidays we have ever had. Pure magic from beginning to end. We have been riding on a high since returning home and telling everyone."

Nigel S

"Prepare yourself for a treat – in the quality of the guides, the food, the wine, the places you stay and the history and antiquated rural landscapes of Transylvania. I would go back in a heartbeat."

Pamela Goodman, House & Garden
Welcome to The Slow Cyclist
Abruzzo is a stunning and peaceful region of central Italy. Our 5-night journey takes us through two epic and contrasting National Parks, Gran Sasso and Majella. These are the finest and highest mountains in Italy outside of the Alps, peppered with small medieval villages, crossed by ancient transhumance trails and home to predators such as bears and wolves. It's an escape to nature, as this whole area is protected and relatively undiscovered. Hearty, tasty mountain food and Montepulciano wine are the order of the day. As you would expect, we cycle on quiet backroads and tracks (e-bikes are recommended) and each day we will meet local people from castle guardians to cheese makers and beekeepers. Gran Sasso is where we spend the first half of the trip. The main feature is a jaw- dropping plateau overlooked by high peaks, which has been described as mini-Tibet, so there is a stark beauty about the place. But that's only one part of Gran Sasso; the rest of the region is layered foothills and forested valleys, always with a backdrop of the mountains. We pass through - and stay in - medieval stone villages such as Santo Stefano, Rocca Calascio and Castel del Monte. These are small, somewhat isolated, local villages with cobbled alleyways, churches and towers. Then we connect to the verdant Majella National Park for the second half of the trip. It's a huge massif with deep cut gorges and enormous valleys where hermitages are hewn into the rocks. At any point during our journey we can stop and listen to the silence of this glorious place.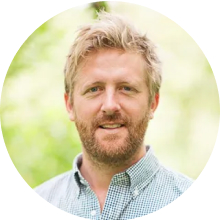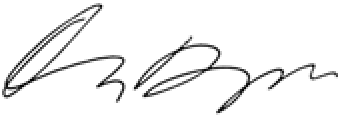 Oli Broom
Founder, The Slow Cyclist
The Journey
Abruzzo is a stunning and peaceful region of central Italy. Led by our passionate and thoughtful team of two local guides and a host, we will travel through two epic and contrasting National Parks, Gran Sasso and Majella. These are the finest and highest mountains in Italy outside of the Alps, peppered with tiny medieval villages, crossed by ancient transhumance trails and home to predators such as bears and wolves. We cycle on quiet back roads and tracks, each day meeting local people from castle guardians to cheese makers, beekeepers and, of course, those who open their homes to us. This is an opportunity to get bak to nature, in a land of exraordinary diversity.
Is it for me?
Our journeys are built around friendship, exceptional hospitality and the great outdoors. Slow Cyclists are curious travellers with a bit of juice in their legs, approaching our time on a bike - or on foot - as an opportunity to explore rather than test our fitness. That's not to say we don't pedal hard sometimes, just that we are often distracted by the food, history and people that make a place special. When we see something interesting, we tend to stop and take it in rather than race by. If this sounds like you, we're pretty sure you'll love your time exploring Abruzzo with us.
When to Go?
We host guests in Abruzzo in May, June, September and October. High summer can get busy but spring and autumn are wonderful, in part due to altitudes of between 500 and 2,000 metres but also because of the variety of flora and fauna. The climate is temperate. May and October are around 15-20°C while June and September are a little warmer. Of course, temperatures drop a few degrees in the evenings. This is a mountainous area so rain is possible at any time.
The Walking & Cycling
Walks will be no more than 3 hours and will not be technical. We provide mountain e-bikes as standard as they are the best tool for the job. Cycling distances will be between 35-45 kms per day. The cycling consists of a wonderful mix of quiet tarmac roads, gravel roads and meadows and paths. It is suitable for almost all levels of cyclist and whether you are a novice or experienced cyclist, our guides are skilled at spotting your ability and level of confidence and reacting accordingly. There will always be someone travelling at your pace.
Food & Drink
Of course, Italian food is famed the world over but Abruzzo, like every region, has its distinct cuisine. The food is hearty, uncomplicated and fresh with the likes of grilled lamb (including the local favourite, 'arrosticini' skewers), homemade pasta, lentils and greens. We will stop at country cheesemakers; eating fresh mozzarella 'like an apple' is a morning snack for the locals. And Abruzzese wine is underrated. It's a treat to drink the Montepulciano d'Abruzzo 'good stuff' that we don't find at home. Any time of the day is good for a local ratifia, or sour cherry liqueur. During the day we provide local fruit and snacks. Allergies and other preferences are noted at the time of booking.
Flora & Fauna
Gran Sasso and Majella National Parks are two of the three most diverse parks in Europe in terms of plant diversity. Gran Sasso is home to more than 2,600 species and Majella 2,500 and growing. Togather they make up around a third of Italy's plant species. Large beech forests, many of which are among the oldest in Europe, cover the mountain slopes in many areas. Among the huge trees live large populations of red deer, roe deer, wild boar, Apennine wolf and the Marsican brown bear. In the sky you may spot eagle owls, peregrine falcons and golden eagles.
Itinerary
We take a less-is-more approach to the itineraries we provide. We do this because we think travel is at its best when plans remain flexible and when, as travellers, our guests don't always know what's coming next. So, please treat this itinerary as a guide to how your time with us is likely to unfold. You will have experiences, meet people and see places that we have not listed here. There may also be occasions when, for good reason, we cannot fulfill every detail here. Finally, please treat distances as estimates because the routes we take may vary slightly.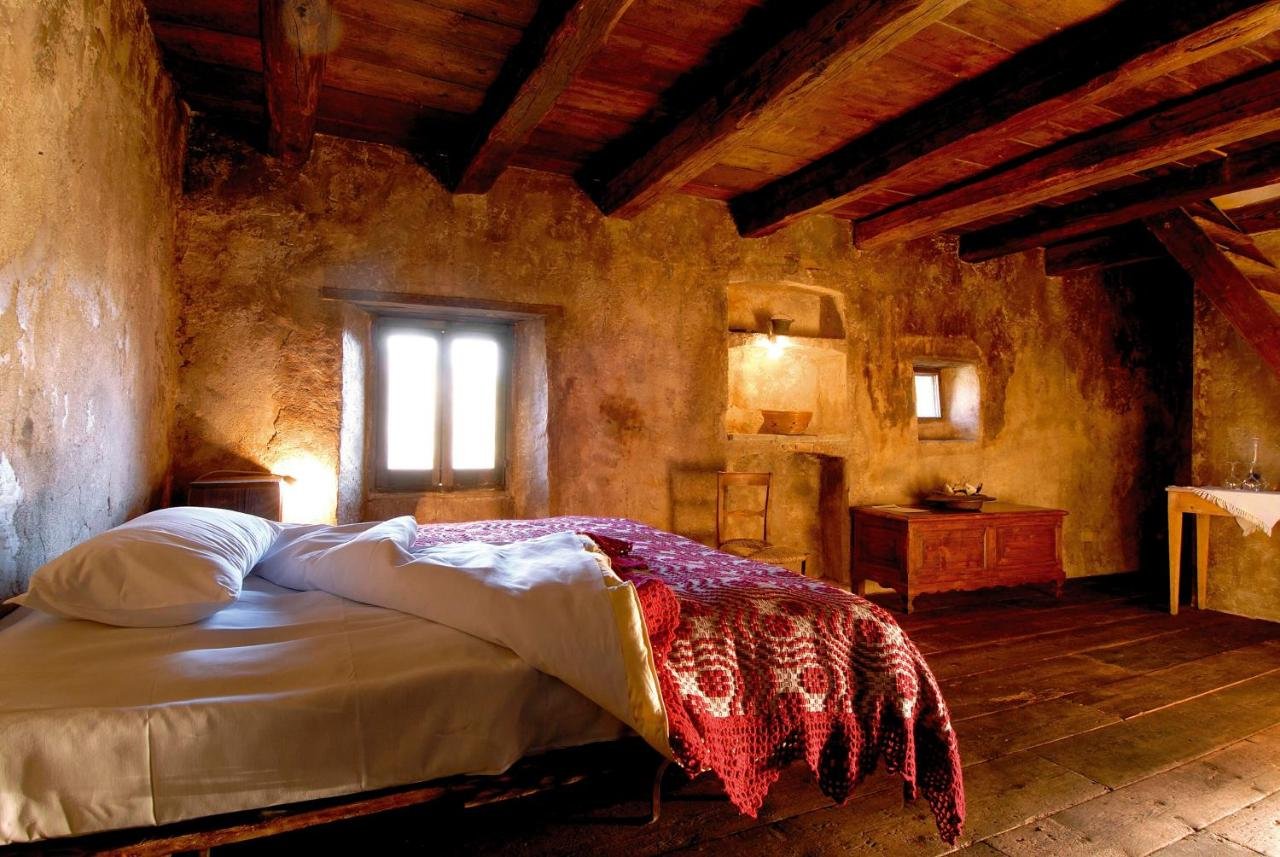 Day 1 - Arrival
Transfer 2 hours
Your driver will meet you at the airport and drive you to Gran Sasso, where you will meet your guiding team at the start of a lovely walk in the late afternoon. We spend the night at Rifugio Rocca Calascio, a tiny medieval hamlet where we enjoy a special home cooked dinner with the restorer of the village.
Day 2 - Castles in the Sky
Cycling 40 kms
The day starts with a stroll around the imposing castle, with far reaching views, followed by a magnificent cycle loop up to the high Campo Imperatore plateau. Descending along tracks, we arrive in the delightful village of Santo Stefano di Sessanio where we stay at the stylish and sympathetically restored Sextantio Albergo Diffuso.
Day 3 - Ancient Trails
Cycling 40 kms
A wonderfully varied cycle down from the Gran Sasso mountains, partly following ancient transhumance trails, through villages and into a valley with Roman ruins, farmland, meadows, lakes and ancient forests, ending with a medieval frescoed chapel. We take a one hour transfer at the end of the day to the Majella National Park where we settle into our base for the next 3 nights, the beautifully converted Case Catalano, in a gloriously remote spot under starry night skies.
Day 4 - Hidden Hermitages
Cycling 35 kms
After breakfast, we cycle through undulating countryside and then up to the spectacular Santo Spirito hermitage, a church spectacularly cut into the rocks, which we will visit with the warden. After lunch it's another lovely ride back to Case Catalano. Dinner is at a nearby family-run farm.
Day 5 - Majestic Majella
Cycling 45 kms
A magnificent day's cycling in the wide and spectacular Orta Valley, heading out on the western Massif slopes, pausing to meet local cheese and honey makers, stopping for a picnic lunch near the beautiful hamlet of Roccacaramanico and then cycling back on a wooded track below the eastern Morrone mountain and passing across the Orta gorge at Salle. The day is perfect for enjoying the flora and fauna of these protected mountains.
Day 6 - Departure
Transfer 2.5 hours
Depending on the time of your flight, we will transfer you back to the airport (or another agreed drop off point) after breakfast or after a short walk and lunch.
Practical Information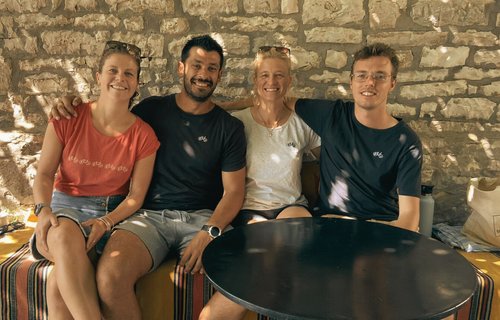 Guiding & Support
Our attention to detail sets us apart. You will be accompanied by a member of The Slow Cyclist team from the UK who will act as your host. In addition, you will be looked after by two of our local guides throughout. They're lovely, really knowledgeable and great fun. We're sure you will become firm friends by the time you leave. Finally, your bags will be driven ahead each day and a support vehicle will be on hand (although never too close) in case you need a lift.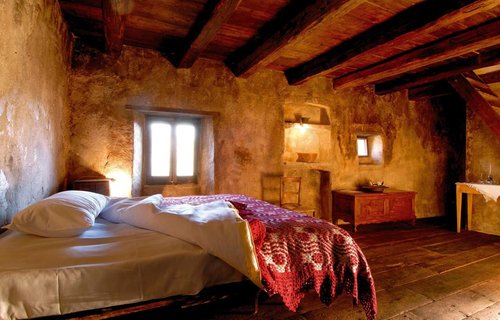 Accommodation
We avoid big, soulless hotels, preferring intimate guest houses and homes that offer charm, comfort and a beautiful location. In Gran Sasso we stay in two different medieval villages, where abandoned houses have been lovingly restored into charming guest houses. This includes the renowned Sextantio Albergo Diffuso, where the rooms are scattered through the village of Santo Stefano di Sessanio. Rooms may be a little dark, but this is because they're authentic to how people in the village traditionally lived. In Majella, we spend 3 nights at stylish and private Case Catalano, standing on its own amongst the meadows and woods, with views of the mountains. We provide our own feather pillows, shampoos and soaps where required. Rooms are all en-suite. Wi-Fi or a good 4 or 5G connection is available each night. Lodging is based on twin or double sharing and single supplements are not available due to the relatively small group size.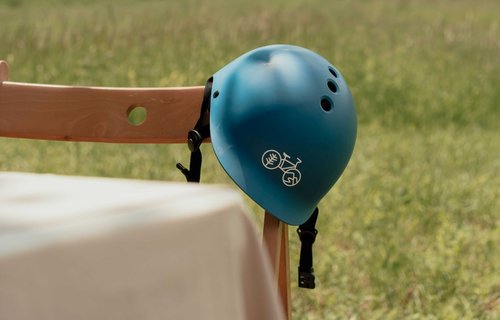 Bikes & Safety
We take your safety seriously. You must wear a helmet when cycling and we cannot accept bookings from anyone unwilling to wear one. The bikes you'll be riding with us are electric mountain bikes. You will be given a brief lesson in how to use them effectively before we start cycling. If you have any technical issues during your time with us, from squeaky brakes to punctures, please let us know and we'll fix it. And finally, please don't worry if you feel you are too slow or too fast for others in the group. We have a guide at the front and one at the back precisely for that reason. Please remember, we're not here to race; this is a journey to take time over.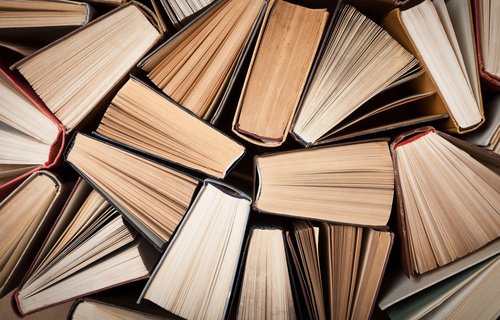 Packing & Reading
Well in advance of your travels we will send you an online Information Pack including various details you need to know in advance. This will include a suggested packing list. You may also wish to get reading about Italy & Abruzzo, so we will also send you a reading list in the same pack.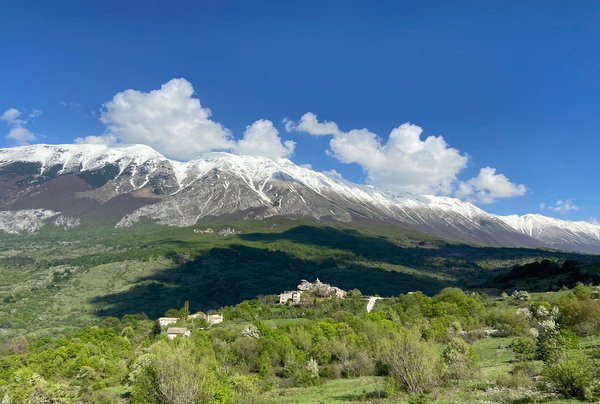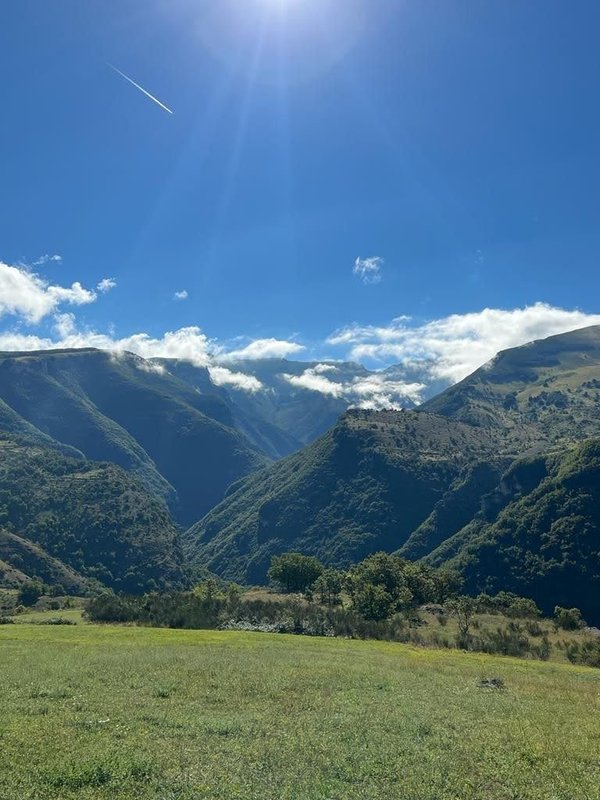 We partner with Trust My Travel so that, in accordance with travel industry regulations, your funds are 100% protected.
Pricing & Booking
Price
£3,395 per person
Extras

Single occupancy supplement
Not available
Group airport transfers (1 x arrival, 1 x departure)
Support vehicle and luggage transfers
TSC host & 2 x English-speaking local guides
5 nights accommodation
All meals, snacks & drinks
All activities
E-bike & helmet hire
100% financial security
Donation to a cause that is aligned with our values
Flights
Personal costs
Tips (optional, of course)
Travel insurance
Visas (if required)
We require a 30% deposit on the core trip price (i.e. not on any extras) at the time of booking. The balance is due 8 weeks before the departure date. The price listed in this brochure is valid until 30 November 2023, after which date we may review our prices. Please make sure you are familiar with our Standard Terms & Conditions before booking.
You will receive two emails shortly after booking. First, a payment receipt, then a second email explaining next steps. Within two working days you will then be contacted by a member of our Guest Services team who will look after and advise you in the lead up to your travels.
Book Now

All of our experiences are covered by Trust My Travel who protect our travellers their payments
Flights
You are responsible for booking your own flights. They are not included in the cost of the trip. We usually recommend arriving into Rome Fiumicino on a British Airways flight from London Heathrow and returning from and to the same airports. We will let you know when the flight schedule is released.
Transfers
We will provide one transfer for the group on arrival and another on departure. If you need to look at alternative transport options because you are arriving or leaving earlier or later, we recommend contacting Liz Rees, who helps many of our guests with their supplementary transport requirements. Her contact details are liz.rees@travelcounsellors.com or +44 7816 936876.
Protect the Planet
We are thrilled that increasing numbers of our guests are choosing to travel to Transylvania by train, often for environmental reasons. We understand that this may not be practical, but urge you to consider doing so if you can make it work. The best place to start your research is at bahn.com although Liz Rees can organise your journey for you.
People have been living in Abruzzo since the Neolithic era, with the earliest artefacts found dating back to beyond 6,500 BC. The name Abruzzo, however, is believed to originate from 'Aprutium', coined in the Middle Ages by the Praetutii, an Italic tribe that lived across Central Italy. Teramo, to the east of Gran Sasso, is one of many cities in Abruzzo whose origins date back to ancient civilisation. Meanwhile, Chieti is believed to be one of the oldest cities in the whole of Italy. Founded by the warring Marrucini tribe, mythology suggests the mythical Greek hero Achilles founded the city and named it Theate, after his mother. As with surrounding regions, much of Abruzzo's recognisable history is from the Roman civilisations that ruled the area for much of late BC and early AD periods. Roman generals conquered Teramo between 295 and 290 BC, renaming the city Interamnia Praetuttorium. Throughout the Roman era, the community was hugely successful thanks to its proximity to the empire's capital, Rome, and as such benefitted from the construction of amphitheatres, baths and temples, the remains of which can still be seen today. Since the fall of the Romans, Abruzzo has, like much of Italy, been ruled by many different civilisations including Lombards, Byzantines and various Islamic occupiers. The most significant impact however, was made by the Normans, particularly their inclusion of Abruzzo in the Kingdom of Sicily, the first step to Italian unification in 1860. Abruzzo is also a region with a deep connection to the two world wars. It was part of the Gustav Line, designed to stop Allied forces reaching the stronghold of Rome. The Battle of Ortona took place in December 1943 and is regarded as one of the fiercest campaigns of the war.
Slow travel is about savouring the journey, the people, the sights, smells and sounds along the way. It encourages deeper connections, friendship and lifelong memories. It is local, thoughtful and sensitive to its impact. It is an antidote to mindless mass tourism. A bicycle journey – indeed, a journey with The Slow Cyclist – is a wonderful way to travel slowly. With an open mind, an open heart and a little juice in the legs, it can provide the ultimate slow exploration of new lands, their food, history, landscapes and people. But although it's our focus, we don't just want to run great trips. In fact, we spend much of our time thinking about how we can run great trips, while benefiting people and planet. Our values guide us to this end.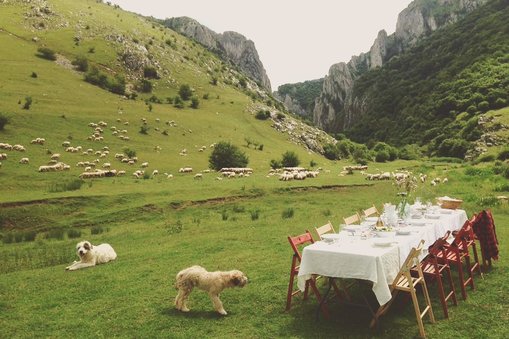 Exceptional Quality
Our passion for creating exceptional shared experiences in places we love is reflected in the journeys we design. We don't rest on our laurels, seeking continued improvement and innovation so that you, our guests, are enriched around every bend in the road.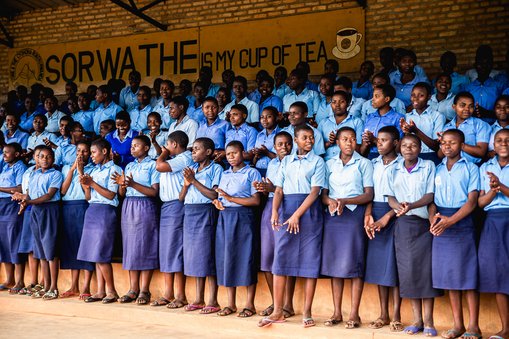 Community Driven
The Slow Cyclist was born as an antidote to mass tourism. All stakeholders, from our guests and team in the UK to our local guides, from food producers we work with to the communities whose lives we touch, must feel our influence and impact is positive.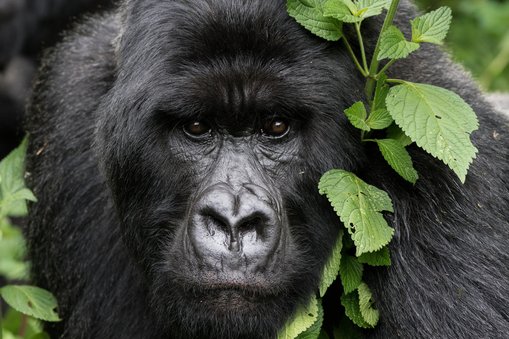 Future Focused
We travel with a light footprint but that's not enough. We can always do more. We are part of a generation that must act responsibly in business and in tourism; one that begins to restore our planet's biodiversity and delicate ecosystems.