A wonderful guided exploration by electric bike and on foot of one of Greece's most fascinating and dramatic regions that is largely ignored by most visitors to the mainland. The Mani peninsula, on the central finger of the Peloponnese, has deserted beaches and deep blue sea, above which tower the Taygetos Mountains, snow-capped until April and a land of myth and ancient refuge, with endless villages and monasteries hidden in their folds.
Duration

5 nights

Type

Electric biking & walking

Price

£3,450 per person

Group size

Maximum 10

Good To Know

On this journey we split our time between just two beautiful properties at Kitta and Kardamyli.
"You found us the best off road tracks, ancient villages, hidden chapels, breath-taking views of mountains and sea, pitch perfect accommodation and wonderful picnic spots and restaurants. You left no stone unturned to make our trip truly special."

Rick W

This was our first holiday with the Slow Cyclist and definitely won't be our last. We were brilliantly looked after by the team. We loved the emptiness of the Mani, the wild beauty of the countryside and the swims in the cold clear sea.

Penny H

A truly great holiday in a beautiful part of Greece. Wild flowers like we have never seen before, excellent accommodation and the food was delicious. The Slow Cyclist team were outstanding.

Dominic V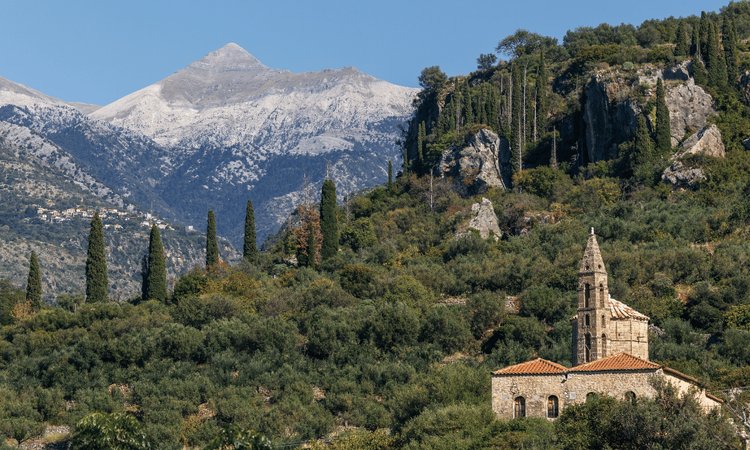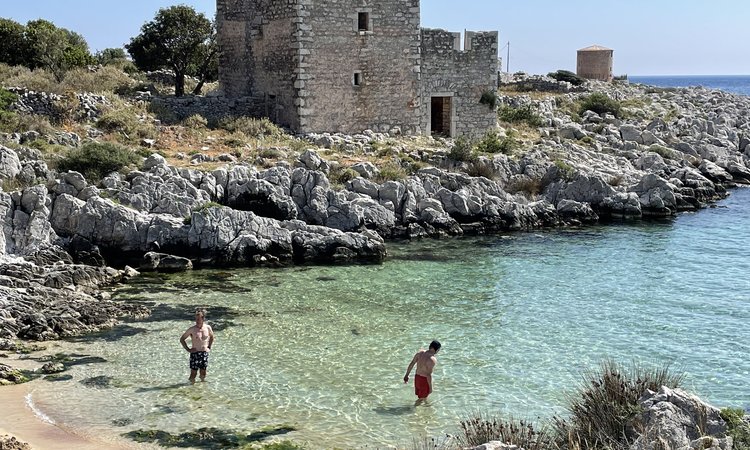 Welcome to The Slow Cyclist
The Inner and Outer Mani, with their beguiling and contrasting landscapes, ancient history, sense of place and wonderful hospitality are a slow cyclist's paradise. A few years ago I spent some time meandering through its largely abandoned villages and olive groves at the start of my honeymoon, and had been looking for an excuse to go back ever since. In 2019 I returned on my bicycle and found the place to be as enthralling as I remembered, perfectly suited to a few days slow exploration in the company of friends, and with Citta dei Nicliani and your villa in Kardamyli to return to each evening, I can think of very few ways I'd rather spend a week. I hope you agree, and have a wonderful time.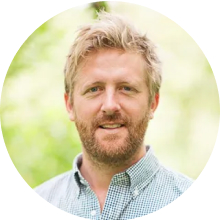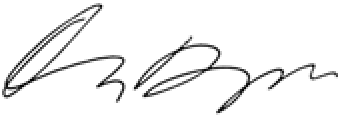 Oli Broom
Founder, The Slow Cyclist
The Journey
There are two distinct regions to the Mani. We start our time on its southern tip with two nights in Kitta, near Vathia, enjoying walks and bike rides amid the stark beauty and iconic tower houses of the Inner Mani, with peaceful and turquoise swim spots around every corner. We then cycle north to the Outer Mani and the hills around Kardamyli which is green, full of wildflowers and olive groves and was, for much of the 20th and early 21st Century, home to celebrated travel writer Patrick Leigh Fermor. There we will spend two full days exploring the hills and villages around this charming small town and the surrounding Ridomo Gorge.
Is it for Me?
Our journeys are built around friendship, exceptional hospitality and the great outdoors. Slow Cyclists are curious travellers with a bit of juice in their legs, approaching our time on a bike - or on foot - as an opportunity to explore rather than test our fitness. That's not to say we don't pedal hard sometimes, just that we are often distracted by the food, history and people that make a place special. When we see something interesting, we tend to stop and take it in rather than race by. If this sounds like you, we're pretty sure you'll love your time exploring the Mani with us.
When to Go?
We welcome guests to the Mani in both spring and autumn, when it's a pretty perfect place to be. In April and May the hills and olive groves are carpeted in wildflowers. In September and October the sea is particularly warm after a long hot summer. In spring and autumn the weather tends to be good, with day-time temperatures of between 20 and 30°. Evenings are milder. Rain is uncommon but not unheard of.
The Walking & Cycling
Your time on the move will be spent on electric bikes and on foot. The walking sections of the journey take you on ancient shepherds' paths across pastoral landscapes, through mountain villages and along dramatic coastal tracks. The cycling is almost exclusively on quiet tarmac roads - they are a cyclist's dream, with very few cars. The Taygetos Mountains run like a spine north to south. They are steep and dramatic, and there are a few long hills – both up and down – along the route. That said, you will always have time to experience village life and to gaze at the magnificent views and whether you are a novice or experienced cyclist, our guides are skilled at spotting your ability and level of confidence and reacting accordingly.
Swimming
The chance to swim in the crystal clear turquoise waters of the Messinian Gulf is one of the great joys of travelling through the Mani. You can be in a tiny, peaceful mountain village one minute and then at one of any number of beautiful swimming spots the next. Particularly in the Inner Mani, during the first couple of days, there are some really lovely stops that we incpororate into our bike rides and walks. Kardamyli too is a great spot for swimming and your villa is just across the road from a very inviting pebble beach. We provide swimming towels but do make sure to pack your swimmers!
Food & Drink
Over the years many of our guests in the Mani have commented on how well they have eaten while with us. The local cuisine is simple, fresh, delicious and the very definition of organic. Locals grow their own vegetables and rear their own animals. Seafood is a staple, often grilled on an open fire. Local cheeses and extra virgin olive oil are plentiful. Traditional puddings of home-preserved fruits and sweet pastries are served alongside thick yogurt. Local wines are some of the finest in the country.
Itinerary
We take a less-is-more approach to the itineraries we provide. We do this because we think travel is at its best when plans remain flexible and when, as travellers, our guests don't always know what's coming next. So, please treat this itinerary as a guide to how your time with us is likely to unfold. You will have experiences, meet people and see places that we have not listed here. There may also be occasions when, for good reason, we cannot fulfill every detail here. Finally, please treat distances as estimates because the routes we take may vary slightly.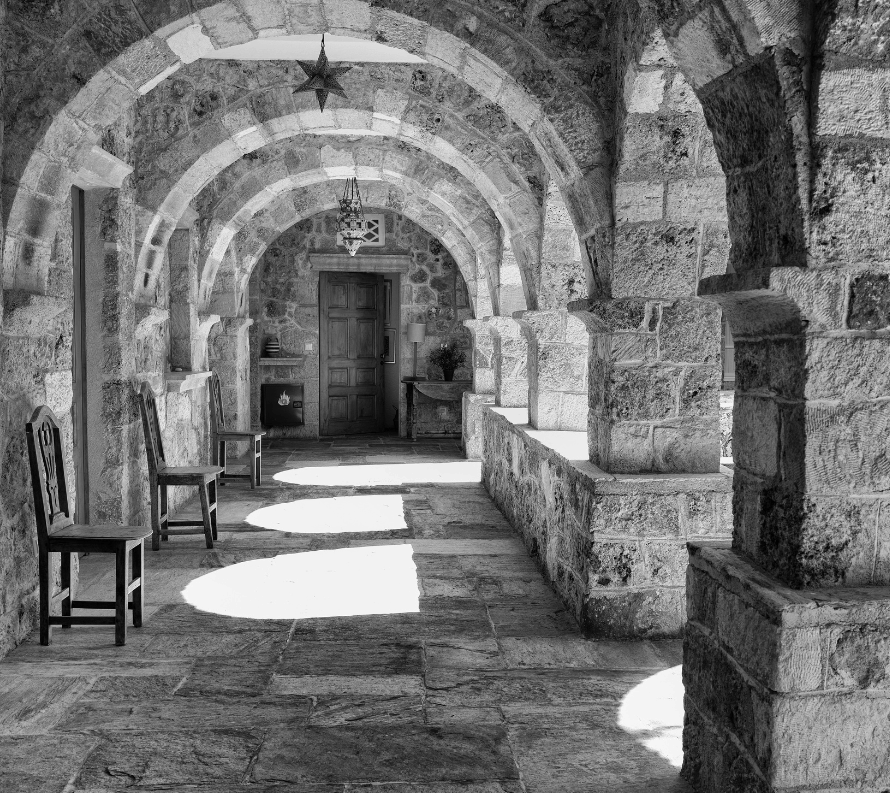 Day 1 - Arrival
Your driver will meet you at the airport and transport you to the tiny, sleepy village of Kitta, near Gerolimenas, in the Inner Mani. We will spend the first two nights of our time in the Mani at Citta dei Nicliani, a beautiful 18th century property that is now a small, family run hotel with lovely views, a couple of small plunge pools and one of the best private wine cellars in the Peloponnese. Depending on the size of the group, the hotel may be exclusively ours.
Day 2 - Journey to the Underworld
Morning cycle 40 kms - Afternoon cycle 16 kms
Our gentle introduction to the Mani takes us on a loop of the ancient heart of Niclian warriors. Once heavily populated, feudal and fierce, the region is now a forgotten outpost, dripping with derelict churches and monasteries, battlements, ancient olive groves and wildflower meadows. We'll meander inland and towards the sea, with plenty of opportunities to swim. By lunch we will have found our way to laid back Port Kaigo, near the southern tip of mainland Europe and, according to myth, just north of the entrance to Hades. On our way back this afternoon we will visit Vathia, the best preserved abandoned village in the region. A seafood dinner will be in Gerolimenas.
Day 3 - Areopolis, Limeni & Northwards
Cycle 30 kms or 65 kms (optional boat transfer)
Today we travel from the Inner to the Outer Mani. We leave Kitta on bikes and pedal north towards Areopolis, named after the God of War, and the capital of the Mani. There we will have a little explore before descending the short distance to beautiful Limeni for a seafood lunch beside the harbour. A speed boat will then transfer us the 1.5 hours to Kardamyli, stopping to swim in hidden bays. Liodentra is our home for the next three nights, on the edge of beautiful Kardamyli set back just behind the town's pebble beach.
Day 4 - Kastania Loop
Morning walk 6 kms - Afternoon cycle 30 kms
We begin today with a visit to Old Kardamyli, before a glorious walk up into the hills on ancient paths to the village of Exochori. We will stop at a church made famous by English travel writer Bruce Chatwin. Then it's on to remote, hilltop Kastania for lunch in the village's only taverna and a visit to one or two of its 11 churches. It is an amazing cycle back to Kardamyli where we will have a barbecue dinner at Liodentra.
Day 5 - Crater & Kampos Loop
Cycle 40 kms
Today begins with a beautiful ride towards the Ridomo Gorge on quiet back roads and tracks. Lunch will be in the meadows with our friend and local restaurant owner Thomas, before a beautiful ride to Kampos to visit an olive oil producer. The day finishes with a descent into Kardamyli in time for a special dinner in town on this your last evening with us.
Day 6 - Departure
This morning we will bid you farewell and drive you to the airport for your flight home.
Practical Information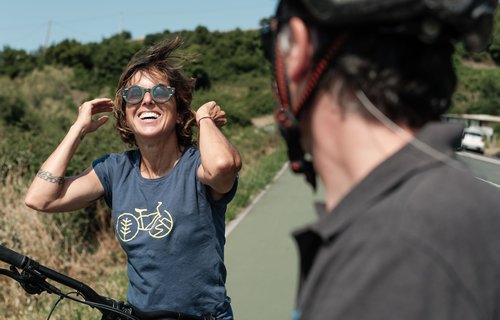 Guiding & Support
Our attention to detail sets us apart. You will be accompanied by a member of The Slow Cyclist team from the UK who will act as your host. In addition, you will be looked after by our two local guides on bike rides and walks throughout the week. We've developed a fantastic line-up here in the Mani, each fluent in English and with an array of skills and interests. We're sure you will become firm friends by the time you leave. Finally, your bags will be driven ahead each day and a support vehicle will be on hand (although never too close) in case you need a lift.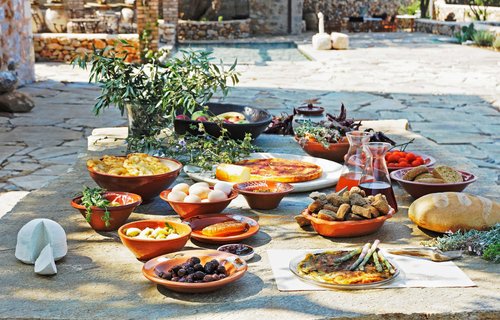 Accommodation
Our first two nights will be spent at Citta dei Nicliani in the village of Kitta, a short distance inland from Gerolimenas in the Inner Mani. During the Ottoman period Kitta was the birthplace of the Nicliani, a revered Mani clan who were at the forefront of the Greek liberation campaign. In the early 20th century the buildings were home to the Greek Royal Gendarmerie. They were abandoned after WWII and lay derelict until the site was bought and refurbished by Panos, our host, and his family. The last three nights are spent at Liodentra, a private villa set amid olive groves a few metres from a lovely pebble beach on the edge of Kardamyli. With magnificent views of the Taygetos mountain range and the deep blue of the Messinian Gulf, the comfortable accommodation is arranged in three buildings around a 13-metre swimming pool. There are two double rooms and three twins, all en-suite.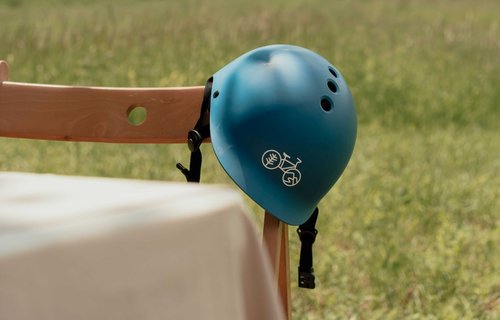 Bikes & Safety
We take your safety seriously. You must wear a helmet when cycling and we cannot accept bookings from anyone unwilling to wear one. The bikes you'll be riding with us are electric bikes. You will be given a brief lesson in how to use them effectively before we start cycling. If you have any technical issues during your time with us, from squeaky brakes to punctures, please let us know and we'll fix it. And finally, please don't worry if you feel you are too slow or too fast for others in the group. We have a guide at the front and one at the back precisely for that reason. Please remember, we're not here to race; this is a journey to take time over.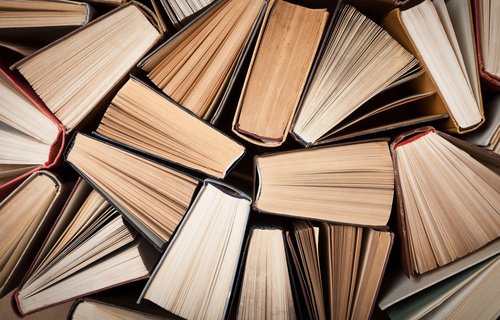 Packing & Reading
Well in advance of your travels we will send you an online Information Pack including various details you need to know in advance. This will include a suggested packing list but also a reading list, should you wish to soak up the Mani's literary history before you arrive.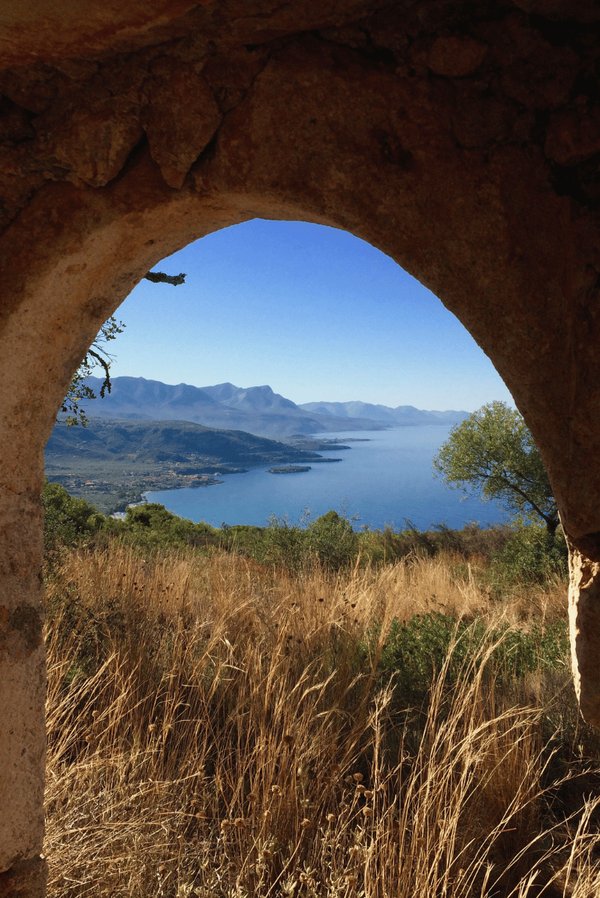 We partner with Trust My Travel so that, in accordance with travel industry regulations, your funds are 100% protected.
Pricing & Booking
Price
£3,450 per person
Extras

Single Supplement
£440
We are often told how nice it is that almost everything is paid for up front. So, while you are with us you can forget about your wallet, relax and enjoy yourselves. Included are:
Group airport transfers (1 x arrival, 1 x departure)
Support vehicle and luggage transfers
TSC host & 2 x English-speaking local guides
All accommodation, meals, snacks & drinks
All activities
Electric bike and helmet hire
100% financial security
Donation to a cause that is aligned with our values
Flights
Personal costs
Tips (optional, of course)
Travel insurance
Visas (if required)
We require a 30% deposit on the core trip price (i.e. not on any extras) at the time of booking. The balance is due 8 weeks before the departure date. The price listed in this brochure is valid until 30 November 2023, after which date we may review our prices. Please make sure you are familiar with our Standard Terms & Conditions before booking.
You will receive two emails shortly after booking. First, a payment receipt, then a second email explaining next steps. Within two working days you will then be contacted by a member of our Guest Services team who will look after and advise you in the lead up to your travels.

All of our experiences are covered by Trust My Travel who protect our travellers their payments
Flights
You are responsible for booking your own flights. They are not included in the cost of the trip. BA and EasyJet operate regular direct flights into both Athens and Kalamata. Arrangements for arrival and departure will depend on which airport you fly into. It is a 4 hour drive from Athens airport to the start of the trip, and a 2 hour drive from Kalamata. The drive at the end of the trip is shorter to both airports (3.5 hours and 45 minutes respectively). If you do not wish to book your own flights, we recommend using Liz Rees who can be contacted at liz.rees@travelcounsellors.com or +44 7816 936876.
Transfers
We will provide one transfer for the group on arrival and another on departure. If you need to look at alternative transport options because you are arriving or leaving earlier or later, we recommend contacting Liz Rees (see Flights), who helps many of our guests with their supplementary transport requirements.
Protect the Planet
We are thrilled that increasing numbers of our guests are choosing to travel by train and boat, often for environmental reasons. We understand that this may not be practical, but urge you to consider doing so if you can make it work. Bahn.com is a good place to begin your research on trains. Greece has a fantastic ferry service to the islands. Alternatively Liz Rees will organise your journey for you.
In classical times, the Mani was not very different from the rest of Greece, though it was ruled by the renowned Spartan warriors. The real contrast with the rest of the country developed after the fall of the Roman Empire and the subsequent invasions that hastened the collapse of the Byzantine Empire, ultimately resulting in Ottoman domination of the rest of Greece. Most significant was the fall of Mystras in 1460, causing many refugees to flee to the Mani. Survival on the peninsula depended on social dominance and that, in turn, depended on ownership of land and resources. Out of this ongoing struggle evolved a unique culture with its own, undeniably violent traditions. The struggle for power in the Mani was therefore rooted in the need to obtain and control areas of valuable land and then to defend them against others, both domestic and foreign, with equal ambitions. The method of defence that evolved was the tower house, which continues to influence the architecture and character of the Mani to this day.
Slow travel is about savouring the journey, the people, the sights, smells and sounds along the way. It encourages deeper connections, friendship and lifelong memories. It is local, thoughtful and sensitive to its impact. It is an antidote to mindless mass tourism. A bicycle journey – indeed, a journey with The Slow Cyclist – is a wonderful way to travel slowly. With an open mind, an open heart and a little juice in the legs, it can provide the ultimate slow exploration of new lands, their food, history, landscapes and people. But although it's our focus, we don't just want to run great trips. In fact, we spend much of our time thinking about how we can run great trips, while benefiting people and planet. Our values guide us to this end.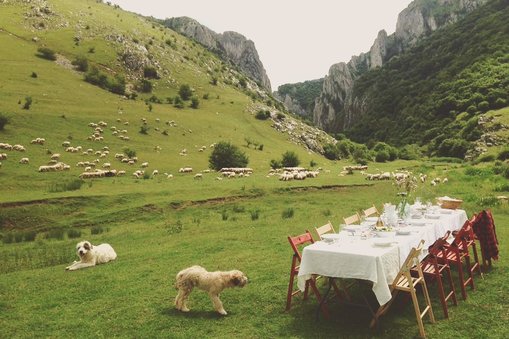 Exceptional Quality
Our passion for creating exceptional shared experiences in places we love is reflected in the journeys we design. We don't rest on our laurels, seeking continued improvement and innovation so that you, our guests, are enriched around every bend in the road.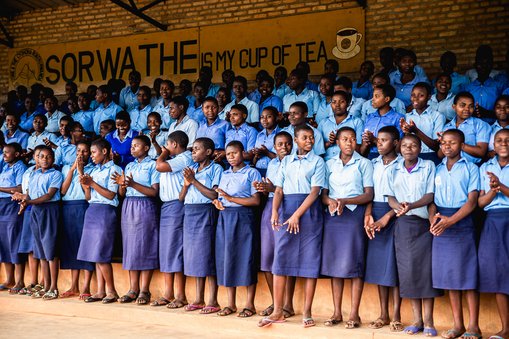 Community Driven
The Slow Cyclist was born as an antidote to mass tourism. All stakeholders, from our guests and team in the UK to our local guides, from food producers we work with to the communities whose lives we touch, must feel our influence and impact is positive.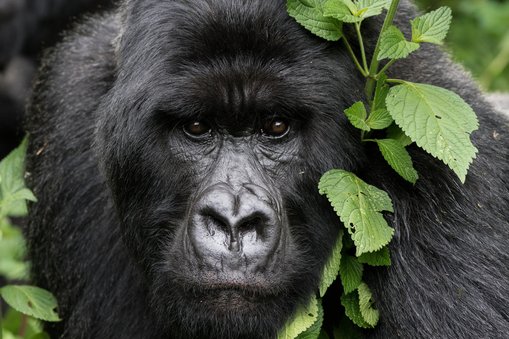 Future Focused
We travel with a light footprint but that's not enough. We can always do more. We are part of a generation that must act responsibly in business and in tourism; one that begins to restore our planet's biodiversity and delicate ecosystems.