Hosted by Athens-based writer, translator and Hellenophile Joshua Barley, with special guests speakers throughout, join us for this one-off cultural tour of the Mani, offering insight into Patrick and Joan Leigh Fermor's lives in and around Kardamyli and a celebration of all things Greek. During this week spent in one of Greece's most fascinating and dramatic regions, there will be options to cycle and walk, while evenings will be spent enjoying talks and performances focused on Greek culture.
Duration

6 Nights

Type

Electric biking & walking

Price

£3,450 per person

Group size

Maximum 20

Good To Know

We will spend 3 nights in and around Kardamyli followed by 3 in Gerolimenas in the southern Mani.
Josh's knowledge is profound – we couldn't imagine not having our walking and cycling encyclopaedia with us.

Julie C

This was our first holiday with the Slow Cyclist and definitely won't be our last. We were brilliantly looked after by the team. We loved the emptiness of the Mani, the wild beauty of the countryside and the swims in the cold clear sea.

Penny H

A truly great holiday in a beautiful part of Greece. Wild flowers like we have never seen before, excellent accommodation and the food was delicious. The Slow Cyclist team were outstanding.

Dominic V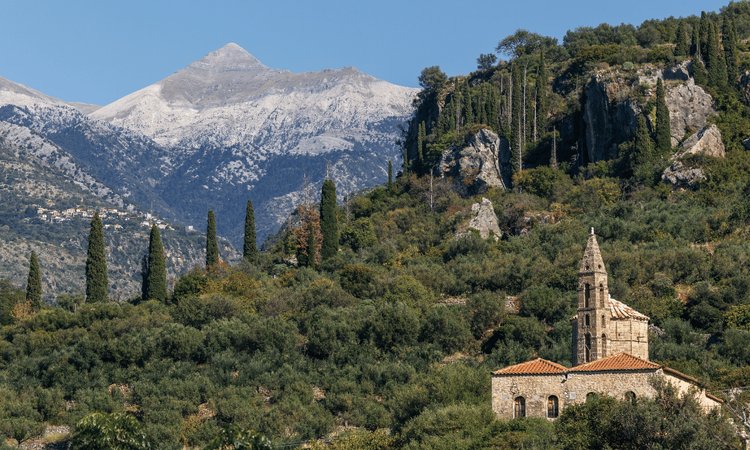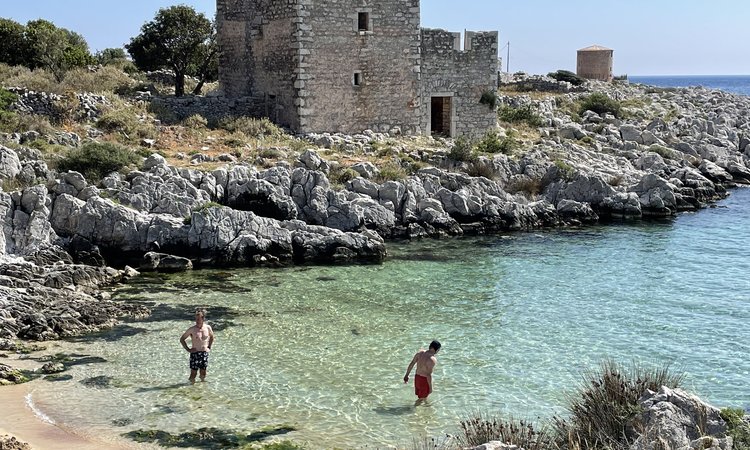 Welcome to The Slow Cyclist
The Inner and Outer Mani, with their beguiling and contrasting landscapes, ancient history, sense of place and wonderful hospitality are a traveller's paradise. And it is our great luck that this dramatic and fascinating tip of mainland Europe attracted Patrick Leigh Fermor, one of the most celebrated travel writers of the 20th century, and his wife, the landscape and architectural photographer Joan Leigh Fermor.
Our journey is led by Joshua Barley, long-term Slow Cyclist guide, Athens-based writer, translator and one of the finest Hellenophiles of his generation. I recommend reading his blog post in which he recalls the profound impact of Patrick Leigh Fermor on his own life and why he's excited to guide a new journey following in the great travel writer's footsteps.
I hope that if you join us in May 2024, you have the most wonderful time learning about their life in the Mani in the company of our expert team of guides and scholars.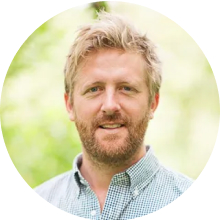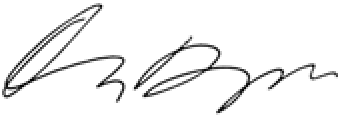 Oli Broom
Founder, The Slow Cyclist
The Week
Our journey loosely follows that of Patrick Leigh Fermor in his classic book Mani. We begin with three days in Kardamyli and its surrounding hills. The charming seaside town was home to the Leigh Fermors for much of the 20th and early 21st century. From the outer Mani, we travel by boat to the 'Deep' or Inner Mani, enjoying walks and bike rides amid the stark beauty of the region's southern tip - and the entrance to Hades in Greek mythology. This journey is all about appreciating and understanding the culture of the Mani, and of Greece in general, through the eyes of writer Patrick Leigh Fermor. We'll visit the Mani in May when the weather is warm and the hills and olive groves are carpeted in wildflowers. With its deserted beaches, deep blue sea and endless villages and monasteries, you'll soon understand why the Leigh Fermors chose the Peloponnese as their home.
Guides & Guest Speakers
You'll be led throughout by long-term Slow Cyclist guide Joshua Barley, who has lived in Athens for the past 11 years and built himself quite a reputation for the quality of his Greek translations. His most recent book, Greek Folk Songs, was published in 2022. He, in turn, will be joined by several guest speakers and musicians. These include Artemis Cooper, who was Patrick Leigh Fermor's goddaughter and biographer and who, during her week spent with us, will offer a unique insight into the life of the Leigh Fermors and their love of Greece; and writer and curator Ian Collins, who wrote the award-winning biography of the artist John Craxton, friend of the Leigh Fermors. Finally, you will be accompanied on the bikes and on foot by Nick and Vangelis, two of our wonderful local team of guides, both with strong family links to the Mani.
The Highlights
A private visit to the Leigh Fermor house outside Kardamyli, with Artemis Cooper, Patrick's goddaughter and biographer, as our guide
Talks each evening by expert guides Joshua Barley, Artemis Cooper and Ian Collins
The opportunity to cycle and walk the Mani's peaceful coastal and mountain roads, encountering some of the places that inspired the Leigh Fermors
A visit to the tiny hilltop village of Kastania, home to one taverna and eleven churches
A seafood lunch beside Limeni's turquoise harbour, home to giant turtles
An evening of poetry and traditional music with the celebrated Kalogerakis brothers
Cycling & Walking
Travelling on foot and by electric bike is a wonderful way to see and experience the Mani. Although it's fair to say there is less of a focus on cycling and walking than on our regular visits to the Mani, most days still see either a walk or bike ride. The cycling is almost exclusively on quiet tarmac roads - they are a cyclist's dream, with very few cars. The Taygetos Mountains run like a spine north to south. They are steep and dramatic, and there are a few long hills – both up and down – along the route. That said, you will always have time to experience village life and to gaze at the magnificent views and, whether you are a novice or experienced cyclist, our guides are skilled at spotting your ability and level of confidence and reacting accordingly. The walks take you on ancient shepherds' paths across pastoral landscapes, through mountain villages and along dramatic coastal tracks. It is not particularly technical although you will need to be comfortable walking on uneven, rocky ground.
Patrick and Joan Leigh Fermor
Patrick Leigh Fermor was an intrepid traveller, writer, scholar and soldier. Aged 18, he decided to forego university and walk the length of Europe from the Hook of Holland to Istanbul, a journey later covered in the books A Time of Gifts, Between the Woods and the Water and The Broken Road. He fought in the Second World War's Cretan resistance, later receiving an OBE and DSO. The Hollywood film Ill Met by Moonlight, starring Dirk Bogarde as Paddy, tells the story of his Cretan heroics. After the war, he became well known for his travel writing, including two books about Greece - Mani (which he considered his best work) and Roumeli. He and his wife Joan, a landscape and architectural photographer, were both great admirers of Greece, and moved to Kardamyli in the 1960s, where they built their beloved house. After Patrick's death in 2011, and in accordance with his wishes, the house passed into the ownership of the Benaki Museum of Athens and, newly refurbished at great expense, currently serves as an inspirational setting for a new generation of writers and scholars.
Food & Wine
Over the years many of our guests in the Mani have commented on how well they have eaten. The local cuisine tends to be simple, fresh, delicious and the very definition of organic. Locals grow their own vegetables and rear their own animals. Seafood is a staple, and we will eat plenty of it, often grilled on an open fire. Local cheeses and extra virgin olive oil are plentiful. Traditional puddings of home-preserved fruits and sweet pastries are served alongside thick yogurt. Local Peloponnesian wines are some of the finest in the country.
Itinerary
We take a less-is-more approach to the itineraries we provide. We do this because we think travel is at its best when plans remain flexible and when, as travellers, our guests don't always know what's coming next. So, please treat this itinerary as a guide to how your time with us is likely to unfold. You will have experiences, meet people and see places that we have not listed here. There may also be occasions when, for good reason, we cannot fulfill every detail here. Finally, please treat distances as estimates because the routes we take may vary slightly.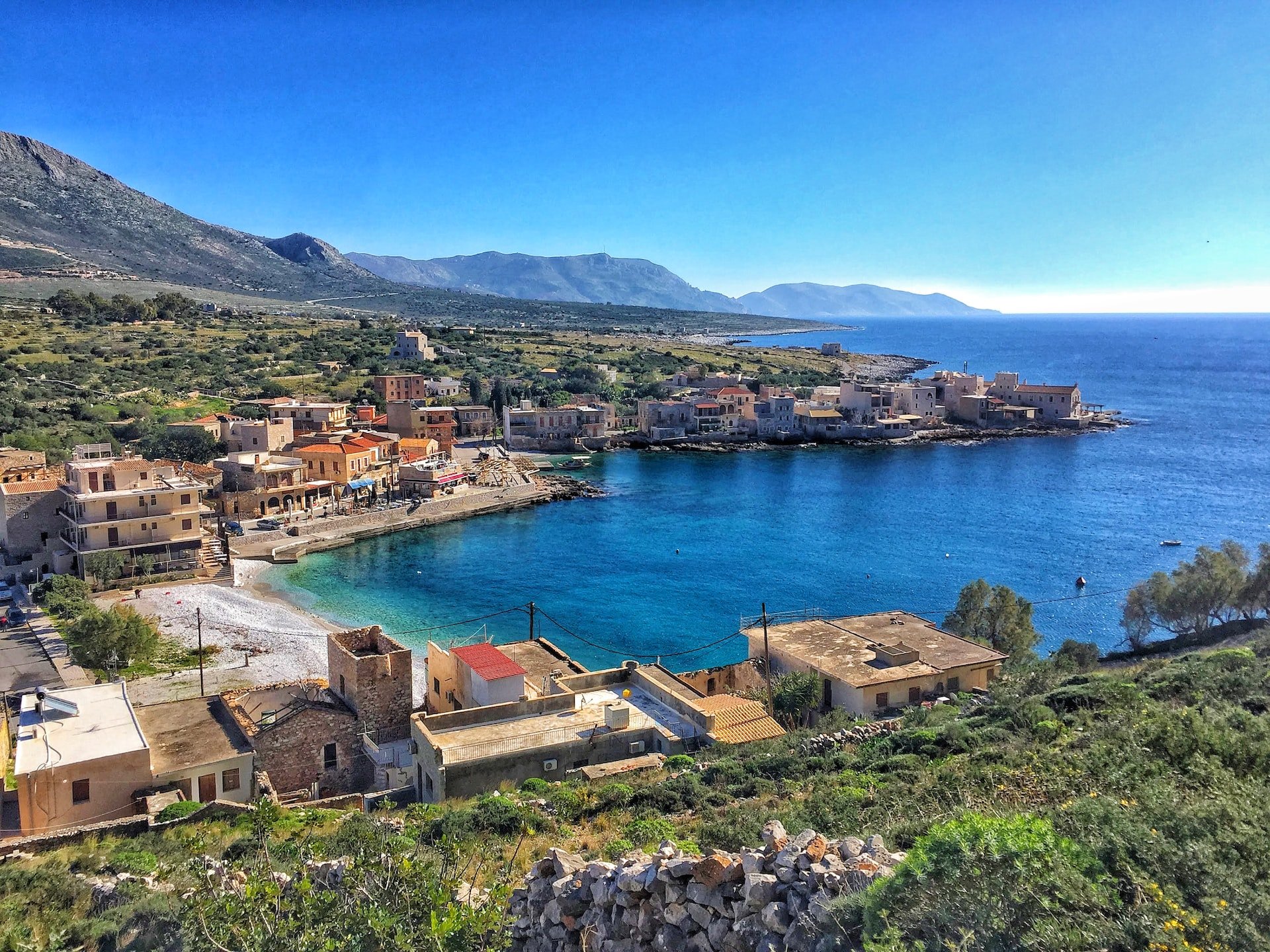 Day 1 - Arrival
Our driver will meet you at the airport and transfer you to Kardamyli (45 minutes). This evening, enjoy a welcome talk from Joshua who will introduce you to the history and geography of the region, setting the scene for the days ahead.
Day 2 - The Home of the Leigh Fermors
Today we will enjoy a private tour of Patrick and Joan Leigh Fermor's wonderful Kardamyli house and garden. We will be guided by Artemis Cooper, who knows the house better than anyone. She will regale us with stories of life in the house, while other friends, while other Greek acquaintances of the Leigh Fermors will also join us. There will be time after lunch at a local taverna to explore the beautiful coastal town of Kardamyli. In the evening, Artemis will talk to us about her experience writing the biography, about Patrick's love of Greece and the Mani and his role in the Greek Resistance during World War II.
Day 3 - The Hills Behind Kardamyli
Morning Cycle 20 kms - Afternoon Cycle 20 kms
We begin today with a cycle through the picturesque villages scattered in the hills behind Kardamyli. We will stop at a church made famous by English travel writer Bruce Chatwin, as well as tiny, hilltop Kastania to visit one or two of its 11 churches. Lunch will be in a taverna overlooking the majestic Vyros Gorge. From here, it is an amazing cycle, mostly downhill, back to Kardamyli. In the evening, we will have dinner in a secluded courtyard in Old Kardamyli, where Joshua will introduce you to the world of Greek folk music, so beloved of Patrick Leigh Fermor, and we will be joined by one of Greece's most celebrated folk singers. Get ready for plenty of singing and dancing!
Day 4 - South To Gerolimenas
Afternoon Cycle 30 kms
This morning, we will take a boat from Kardamyli to the harbour at Limeni, outside Aeropolis, the capital of the Mani. Once again, we'll be walking in the footsteps of the Leigh Fermors, as they arrived in Limeni for the first time by boat. We'll enjoy a tour of a traditional Maniot tower before a seafood lunch in Limeni. If we are lucky we'll be able to swim with giant turtles in the crystal clear waters of the harbour. After lunch, there is the option to cycle to Gerolimenas, or simply relax in Kyrimai, your beautiful hotel beside the sea for the next three nights.
Day 5 - The Frying Pan
Morning cycle 20 kms
We'll begin our day with a scenic cycle from Gerolimenas to majestic Tigani, which juts out from the peninsula like an upside-down frying pan (we're not the only ones who think this; 'Tigani' literally translates as 'frying pan'!). We'll visit the castle ruins, which are widely accepted to be the oldest in the Mani, before a delicious picnic lunch of fresh, local produce. This evening, Joshua will deliver a brief history of modern Greek literature, informed by his own research, writing and translations. He will be joined by a local author.
Day 6 - Cape Matapan
Morning walk 5 kms (or Morning / All day cycle 25 or 50 kms)
We'll begin our morning with a visit to Vathia, the best preserved abandoned village in the region, before walking to a lighthouse at the southern tip of continental Europe. Lunch will be in laid back Porto Kaigo before a relaxed afternoon, with opportunities to swim. In the evening, for a last hurrah, we will be joined by the celebrated Kalogerakis twins for an evening of poetry and music. The brothers are the latest exponents of the great Greek tradition of putting poetry to music. There will be recitals of poetry along with an unforgettable musical performance by the sea.
Day 7 - Departure
On our final morning, we'll visit the charming town of Gytheio and its ancient theatre before enjoying lunch in a taverna. After lunch, we will bid you farewell and drive you to the airport for your flight home (1.5 hours to Kalamata).
Practical Information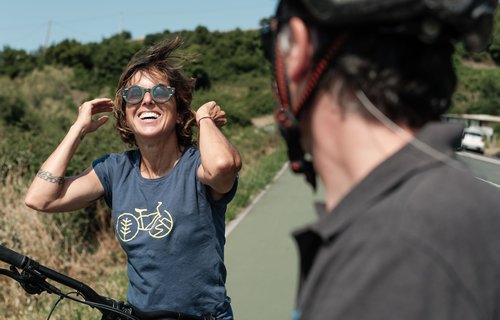 Guiding & Support
Our attention to detail sets us apart. You will be accompanied by a member of The Slow Cyclist team from the UK who will act as your host. In addition, of course, we have a full team of specialist guides for this one-off cultural tour who we know you'll just love. Finally, our local cycling and walking guides have fantastic local knowledge and are passionate about sharing it with you, our guests. Your bags will be driven ahead when we move to the south and a support vehicle will be on hand (although never too close) in case you need a lift at any time.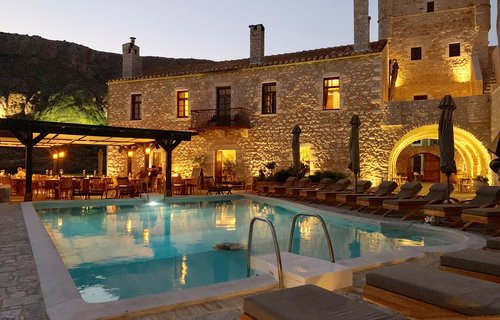 Accommodation
For the first three nights we will stay in Kalamitsi Apartments, a sprawling series of bungalows set in an olive grove above a private beach on the outskirts of Kardamyli. In the Deep Mani, for our final three nights, we will stay at Kyrimai, in Gerolimenas, and pictured above. Rooms will be allocated by us although please let us know if you would like a suite at Kyrimai, subject to availability. Single supplements are available at a supplementary cost of £595.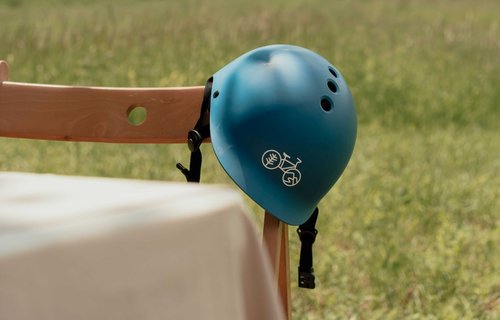 Bikes & Safety
We take your safety seriously. You must wear a helmet when cycling and we cannot accept bookings from anyone unwilling to wear one. The bikes you'll be riding with us are electric bikes. You will be given a brief lesson in how to use them effectively before we start cycling. If you have any technical issues during your time with us, from squeaky brakes to punctures, please let us know and we'll fix it. And finally, please don't worry if you feel you are too slow or too fast for others in the group. We have a guide at the front and one at the back precisely for that reason. Please remember, we're not here to race; this is a journey to take time over.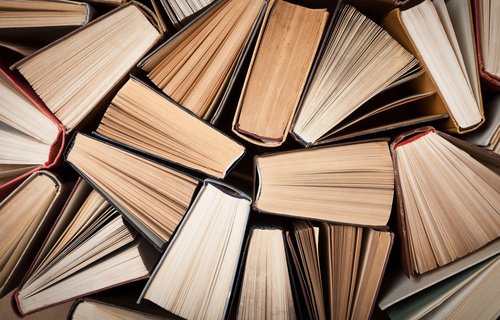 Packing & Reading
Well in advance of your travels we will send you an online Information Pack including various details you need to know in advance. This will include a suggested packing list but also a reading list, should you wish to soak up the island's literary history before you arrive.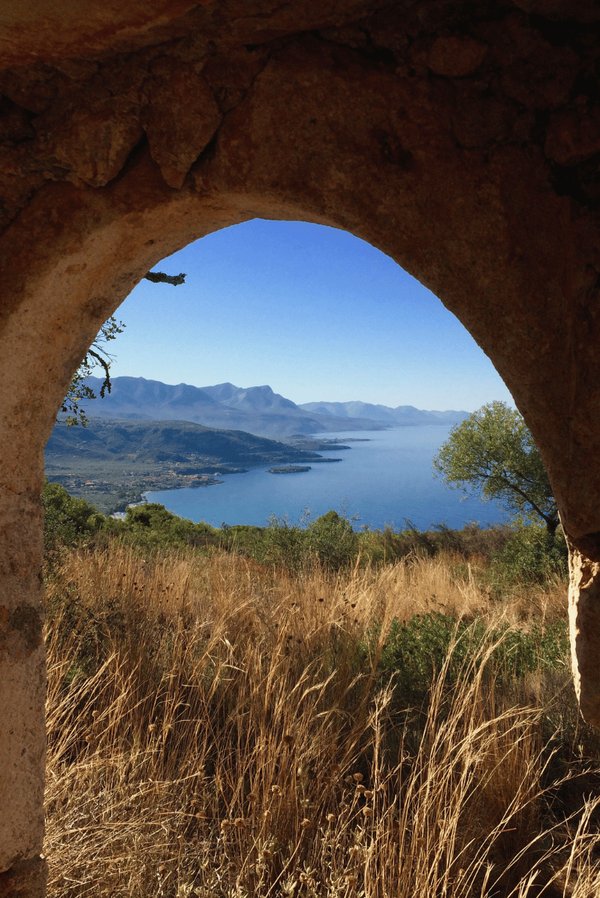 We partner with Trust My Travel so that, in accordance with travel industry regulations, your funds are 100% protected.
Pricing & Booking
Price
£3,450 per person
Extras

Single Supplement
£595
We are often told how nice it is that almost everything is paid for up front. So, while you are with us you can forget about your wallet, relax and enjoy yourselves. Included are:
Group airport transfers (1 x arrival, 1 x departure)
Support vehicle and luggage transfers
TSC host & 2 x English-speaking local guides
Special guest speakers and musicians
All accommodation, meals, snacks & drinks
All activities
Electric bike and helmet hire
100% financial security
Donation to a cause that is aligned with our values
Flights
Personal costs
Tips (optional, of course)
Travel insurance
Visas (if required)
We require a 30% deposit on the core trip price (i.e. not on any extras) at the time of booking. The balance is due 8 weeks before the departure date. The price listed in this brochure is valid until 30 November 2023, after which date we may review our prices. Please make sure you are familiar with our Standard Terms & Conditions before booking.
You will receive two emails shortly after booking. First, a payment receipt, then a second email explaining next steps. Within two working days you will then be contacted by a member of our Guest Services team who will look after and advise you in the lead up to your travels.

All of our experiences are covered by Trust My Travel who protect our travellers their payments
Flights
You are responsible for booking your own flights. They are not included in the cost of the trip. We recommend flying with British Airways on the following flights:
26th May - London Heathrow (08.15) to Kalamata (14.05)
1st June - Kalamata (20.45) to London Heathrow (22.25)
If you do not wish to book your own flights, we recommend using Liz Rees who can be contacted at liz.rees@travelcounsellors.com or +44 7816 936876.
Transfers
We will provide one transfer for the group on arrival and another on departure. If you need to look at alternative transport options because you are arriving or leaving earlier or later, we recommend contacting Liz Rees (see Flights), who helps many of our guests with their supplementary transport requirements.
Protect the Planet
We are thrilled that increasing numbers of our guests are choosing to travel by train and boat, often for environmental reasons. We understand that this may not be practical, but urge you to consider doing so if you can make it work. Bahn.com is a good place to begin your research on trains. Greece has a fantastic ferry service to the islands. Alternatively Liz Rees will organise your journey for you.
In classical times, the Mani was not very different from the rest of Greece, though it was ruled by the renowned Spartan warriors. The real contrast with the rest of the country developed after the fall of the Roman Empire and the subsequent invasions that hastened the collapse of the Byzantine Empire, ultimately resulting in Ottoman domination of the rest of Greece. Most significant was the fall of Mystras in 1460, causing many refugees to flee to the Mani. Survival on the peninsula depended on social dominance and that, in turn, depended on ownership of land and resources. Out of this ongoing struggle evolved a unique culture with its own, undeniably violent traditions. In Mani, Patrick Leigh Fermor depicted the local warlords, some of whom would play an instrumental part in the Greek War of Independence, in picturesque detail. The struggle for power in the Mani was rooted in the need to obtain and control areas of valuable land and then to defend them against others, both domestic and foreign, with equal ambitions. The method of defence that evolved was the tower house, which continues to influence the architecture and character of the Mani to this day.
Slow travel is about savouring the journey, the people, the sights, smells and sounds along the way. It encourages deeper connections, friendship and lifelong memories. It is local, thoughtful and sensitive to its impact. It is an antidote to mindless mass tourism. A bicycle journey – indeed, a journey with The Slow Cyclist – is a wonderful way to travel slowly. With an open mind, an open heart and a little juice in the legs, it can provide the ultimate slow exploration of new lands, their food, history, landscapes and people. But although it's our focus, we don't just want to run great trips. In fact, we spend much of our time thinking about how we can run great trips, while benefiting people and planet. Our values guide us to this end.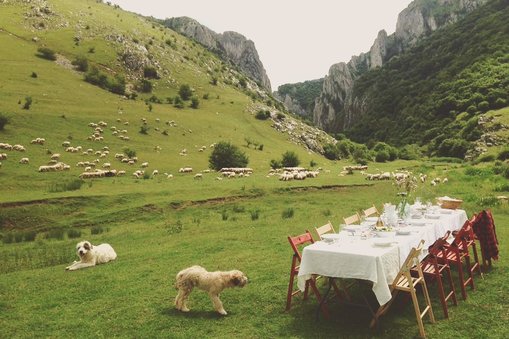 Exceptional Quality
Our passion for creating exceptional shared experiences in places we love is reflected in the journeys we design. We don't rest on our laurels, seeking continued improvement and innovation so that you, our guests, are enriched around every bend in the road.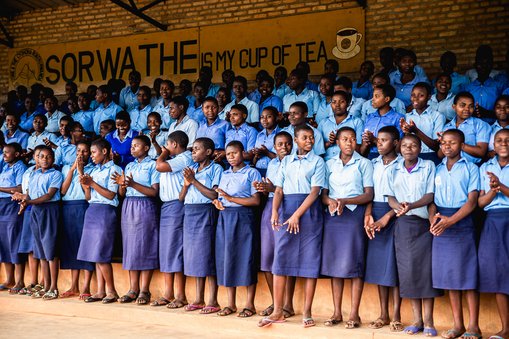 Community Driven
The Slow Cyclist was born as an antidote to mass tourism. All stakeholders, from our guests and team in the UK to our local guides, from food producers we work with to the communities whose lives we touch, must feel our influence and impact is positive.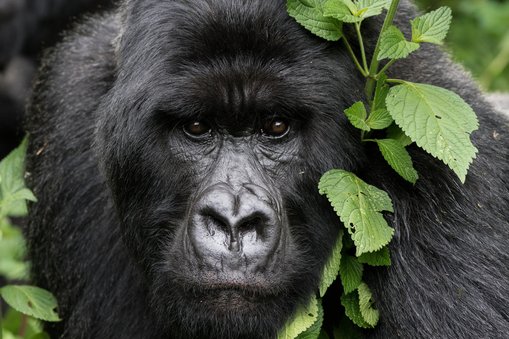 Future Focused
We travel with a light footprint but that's not enough. We can always do more. We are part of a generation that must act responsibly in business and in tourism; one that begins to restore our planet's biodiversity and delicate ecosystems.